Meetings of Safety , Health personnel and Environmental Officers of Mining Companies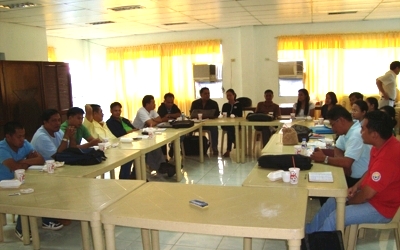 Officers and members of CMEMC during their meeting on October 4, 2010.
Members of the 2 active organizations ,Caraga Mines Safety and Health Council (CMSHC) and the Caraga Mines Environmental and Management Committee (CMEMC) which were established by the Mines and Geosciences Bureau 13 are busy preparing for the conduct of trainings and programs of their respective members.
The CMSHC is conducting a training on Standard First Aid Course to upgrade the capability of safety engineers, inspectors and medical practitioners for them to be able to respond efficiently in case of emergencies in their areas of concern. This will be conducted by Red Cross –Surigao.
On the other hand, the CMEMC is conducting an Erosion and Sediment Control training on October 20-22, 2010 with Dr. Rolly Cuano, environmental consultant, as resource speaker. The activity is aimed at providing the participants the recent technology on siltation prevention.
To this effect, meetings for the CMEMC and CMSHC were held on October 4, 2010 and October 8, 2010 respectively for the planning and preparations of these activities.