In compliance to the MGB Programs/Projects/Activities (P/P/As) on Small-Scale Mining, a Training for Masabong Village Small-Scale Miners Association (MAVISSMA) on Rescue, Safety and Environmental Protection was conducted last April 20-22, 2016 at Sitio Masabong, Bayugan 3, Rosario, Agusan del Sur. The training was participated by 26 miners of MAVISSMA. The trainers composed of the Technical Personnel from Apex Mining Co., Inc. (AMCI) namely:
Steve John Bagacay – Conventional Mining
Eric Maningo – Conventional Mining
Edu Seguerra – Rescue and Safety Induction
Danilo P. Regis – Environmental Protection
While the MGB-13 Training Facilitators are:
Ana Diosell Soliven-Bajao, Economist-II
Engr. Ernesto C. Calzar-Engr. II
Carl Orven C. Eludo, Planning Officer
Mitch Bryll H. Tampus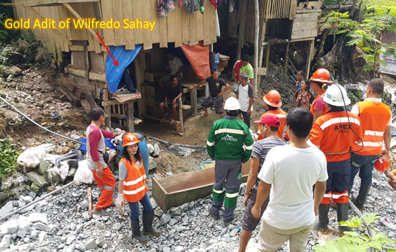 During the training, the team conducted a gold tunnel evaluation to see the actual practices of the miners.
Before the training schedule, Ms. Ana Soliven-Bajao and Engr. Ernesto Calzar visited Apex Mining Co., Inc. in Masara, Maco, Compostela Valley last April 7-9, 2016. The purpose of the visit was to present the training request of MGB-13 to the AMCI management and gather their response. Fortunately, the management of AMCI sees the endeavor as a great opportunity to extend help to other miners especially those into small scale. Part of the visit was to know the trainers better. The aforementioned MGB-13 personnel were able to go to the mine structures and facilities such as the conventional Level 600 Wagas tunnel, mill and processing plant and the tailings pond.