Officers of the Mines and Geosciences Bureau Employees Association (MGBEA) Caraga Chapter attended the Government Service Insurance System (GSIS)-Public Sector Union's Consultation on October 20, 2015 at the Philippine Gateway Hotel, Surigao City.  It was attended by representatives of the National Line Agencies, and Local Government Units within Surigao del Norte.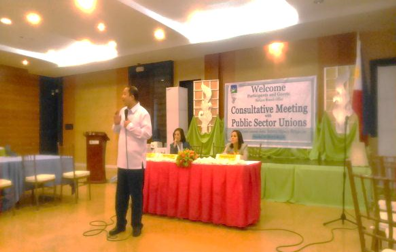 Atty. Jason C. Teng, GSIS Acting-Vice President for Mindanao presented the updates on GSIS policies and programs.  He discussed the institutionalizing reforms undertaken by GSIS to provide a more responsive service to members and pensioners. He cited that the new GSIS is more transparent, more consultative and more members focused.
Reforms for Pensioners:
GSIS restored the survivorship benefit of surviving spouses even if they are gainfully employed or receiving income or pension from other institutions.
No more Annual Renewal of Active Status (ARAS)
Higher minimum pension and payment of proportionate pension.
It also has new additional benefits, increased Funeral Benefit from Php20,000.00 to Php30,000.00 and one-time benefit equivalent to one month pension or Php10,000 whichever is lower.
Reforms for active members:
Information Technology (IT) solutions for efficient processing (Electronic- Billing and Collection System (eBCS), additional bandwidth and telecom lines)
Decentralized processing (file anywhere policy) and lesser document requirements
Use of eCARD in paying claim benefits.
More service touch points (one-stop shop for branches, kiosks, call center service desks)
Option to change Retirement Date, Mode, and/or Benefit Option
 Enhanced Emergency and Service Loan Terms
 Improved Consolidated Loan Program (Increased Credit Limit and extended payment terms).
Atty. Teng also presented the following highlights of the 2014 Operational Performance:
There was a Reduction in Volume of Inaccurate Accounts from Php20B on CY 2010 it was reduced to Php 2.4B on CY 2014.
The Posting Efficiency (Collections on premiums, loans and MOA) was improved from 83.51% on CY 2010 to 95.28% on CY 2014.
He added that the Reduction in Volume of Inaccurate Accounts and the Posting Efficiency could also be credited to its Agency Authorized Officer (AAO) and the preparer of the payroll of each agencies who submitted through eBCS the updated status of their employees (i.e if there is  promotion, step increment, change of marital status and  newly hired employees).
He also mentioned that GSIS Claims and Benefits Processing for CY 2014 in Surigao del Norte was 100% accomplished.
He assured the body that with its CY 2014 assets of PhP908.00 billion still has a longer fund life.
He also added that the GSIS 2015 Directions are aimed at the following:
Continued Public Sector Unions' Consultative Meeting;
Amendment of  GSIS Charter to institutionalize member-friendly policies, including:
Members' Bill of Rights;
Designation of beneficiary by single members before age 50;
Removal of remarriage and cohabitation as basis for cancelling survivorship benefit; and
No prescription period for claims.
Furthermore, Atty. Teng also encouraged each member to avail the services of the GSIS Contact Center whose representatives are more than willing to answer and accommodate their queries.   Below are their contact numbers: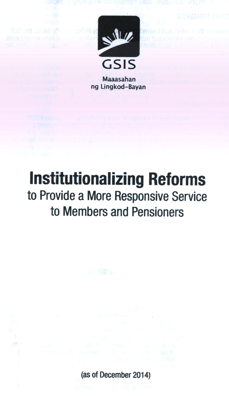 (02) 847-4747
For SMART Subscribers 1-800-10-8474747
First minute Php8.00 and succeeding minutes FREE
For GLOBE Subscribers 1-800-8-8474747
FREE of charge (maintaining balance of  Php8.00 required)
Queries of GSIS members were appropriately answered by Atty. Teng during the Open Forum.
Pamphlets on Institutionalizing Reforms to Provide a More Responsive Service to Members and Pensioners produced by GSIS, Roxas Boulevard, Pasay City were distributed to the participants.