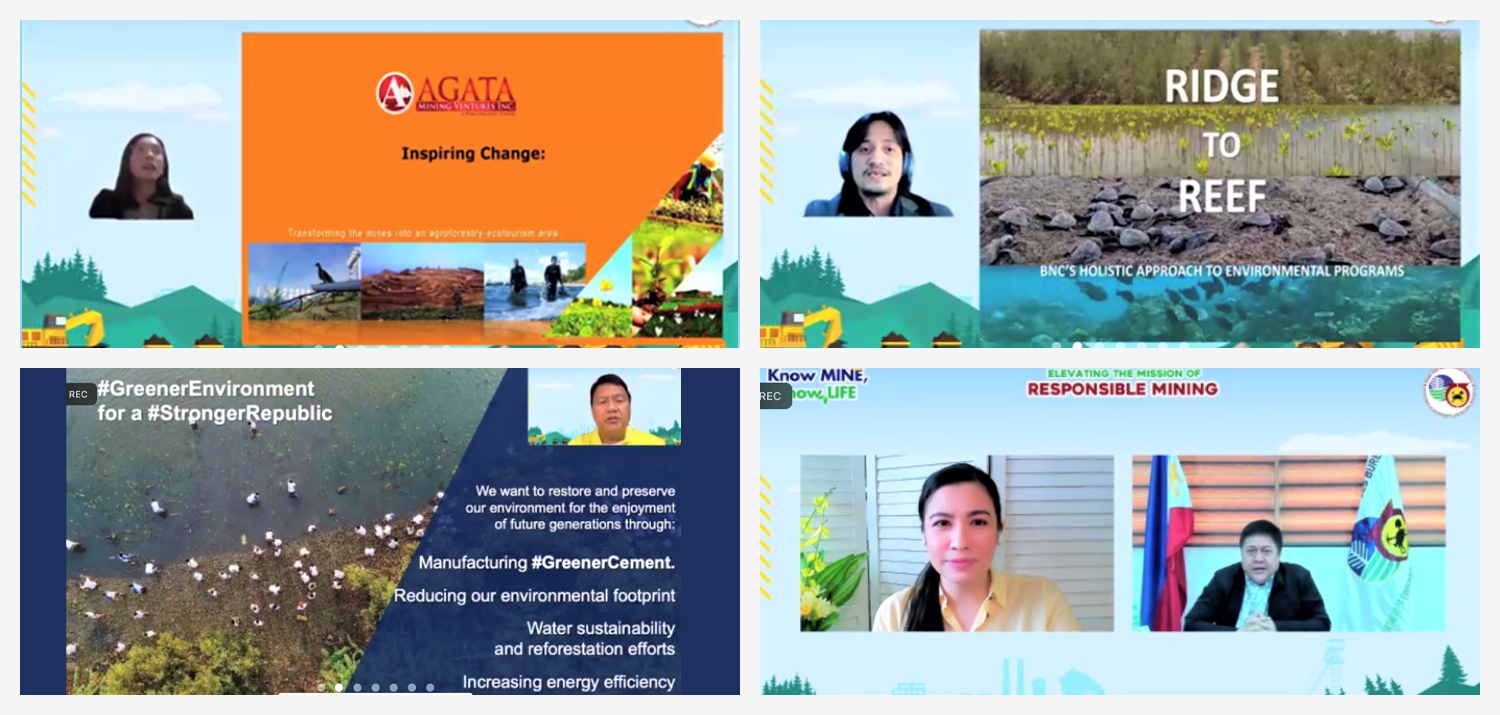 The #MineResponsibility campaign of the Mines and Geosciences Bureau carried on with the Virtual Stakeholders' Forum on February 10 to 11, 2022 via Zoom Platform.
With the theme Know Mine, Know Life: Elevating the Mission of Responsible Mining, the two-day forum was organized by the Mineral Economics, Information, and Publication Division of the MGB Central Office. Almost 1,000 partners and stakeholders from the minerals industry, national and local government units, academe, media and civil society organizations from NCR, Calabarzon, and Mimaropa took part in the forum wherein the most recent mining policies and developments were discussed and the nine awardees of the 2021 Presidential Mineral Industry Environmental Awardees (PMIEA) were presented.
Day One of the forum started with an Opening Remarks from MGB Director Atty. Wilfredo G. Moncano and a Welcome Message from the Department of Environment and Natural Resources Undersecretary for Attached Agencies, Mining and Muslim Affairs Jim O. Sampulna.
The forum featured the following presentations from the MGB and the PMIEA awardees:
What is MGB?
Engr. Ellen Grace R. Galiste
Chief, Mine Management Division/Gender and Development Focal Person
MGB Mimaropa
Policy Matters on Lifting the Ban on Open Pit Mining (DAO 2021-40)
Engr. Marcial H. Mateo
Chief, Mine Safety, Environment and Social Development Division
MGB Central Office
Inspiring Change: Agata's journey to transformative mining
Engr. Marichu Batingal-Robles
Mine Planning and Engineering Superintendent
Agata Mining Ventures Inc.
Ridge to Reef: BNC's Holistic Approach on Environmental Programs
Mr. Jay Pee R. Dela Cruz
Environmental Head, Mine Environmental Protection and Enhancement Officer, and Pollution Control Officer
Berong Nickel Corporation
Best Mining Practices of Taganito Mining Corporation and Hinatuan Mining Corporation
Mr. Jose Bayani Baylon
Vice President for Corporate Communications
Nickel Asia Corporation
Protecting the Environment and Creating a Sustainable Community
Mr. Alex Arabis
Community Relations Manager
Platinum Group Metals Corporation
On the second day of the forum, the following presentations were discussed by the MGB and the PMIEA awardees:
Harmonizing the Mining Operations of an Operator under a Mining Tenement (DAO 2021-37)
Engr. Edgardo D. Castillo
Chief, Mine Management Division
MGB Calabarzon
Memorandum Order No. 2022-001: Guidelines Determining the Taxable Percentage of Gold and Iron Content as Associated Minerals in Dredged Materials
Engr. Juancho Pablo S. Calvez
OIC-Assistant Director and Concurrent Chief of the Metallurgical Technology Division
MGB Central Office
Above and Beyond Borders
Mr. Clyde Zane Macascas
Information, Education and Communication Officer
Mindanao Mineral Processing and Refining Corporation
Building a Stronger Republic through Responsible Mining
Engr. Rogelio Leonardo
Bulacan Plant Manager
Republic Cement and Building Materials Inc.
The Bedrock of CBNC's Operations: Community Engagement
Engr. Benjamin Tansingco
Vice President for Environmental Management
Coral Bay Nickel Corporation (CNBC)
Responsible Mineral Processing Operations in the New Normal
Engr. Benjamin Tansingco
Vice President for Environmental Management
Taganito HPAL Nickel Corporation
The forum featured an open forum towards the end of each session that highlighted the discussions related to the recent policy issuances, best practices in responsible mining and environmental and social sustainability. Throughout the forum, the participants also participated in an online poll. A good number of Information, Education and Communication videos produced by the MGB Central Office and the Regional Offices were also showcased at the forum.
The forum formally concluded with the Closing Remarks delivered by Engr. Nonita S. Caguioa, DENR Assistant Secretary for Finance, Information Systems and Mining Concerns.
By:

MARIE PENNELOPE E. FANG
Administrative Officer IV