The Mines and Geosciences Bureau Gender and Development Focal Point System took part in the We Make Change: Women Inspiring Women Forum on March 15, 2017 at the CAP Auditorium in Davao City.The Mines and Geosciences Bureau Gender and Development Focal Point System took part in the We Make Change: Women Inspiring Women Forum on March 15, 2017 at the CAP Auditorium in Davao City.
In his first State of the Nation Address (SONA), President Rodrigo Roa Duterte directed "all agencies, oversight bodies and local government units down to the barangay level to fully implement the Magna Carta of Women" in order to ensure that man and woman will be partners in the pursuit of the country's economic, social, cultural and political developments. The first National Women's Month Celebration under the new administration focused on partnership for change and full implementation of the Magna Carta of Women (Republic Act 9710) which is intrinsically captured through the theme: "WE Make Change Work for Women."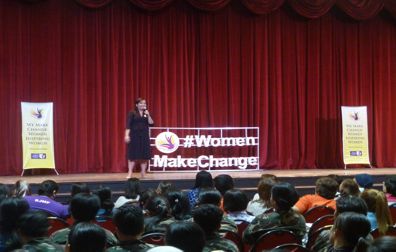 As one of the 2017 National Women's Month Celebration activities, the said forum aimed to celebrate women's journey by sharing inspiring stories of positive change in their chosen fields in order to encourage their fellow women to become empowered agents of change. It served as a venue for women to inspire, appreciate and support each other. The Philippine Commission on Women and the City Government of Davao through the Integrated Gender and Development Division organized the forum. Women and men from national government agencies, local government units, non-government and people's organizations, private sector, and schools based in the island group of Mindanao attended the said forum as the last part of the We Make Change: Women Inspiring Women Forum which was held in three series.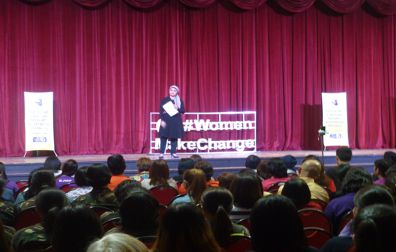 The event started with the welcome remarks of the Davao City Administrator, Atty. Zuleika T. Lopez.  "Women have come a long way from being silent change agents to empowered change agents.  With this forum, let us use this platform to inspire and empower other women through the stories that will be shared by the resource speakers.  It is our hope that the participants will someday share their own stories of empowerment," Atty. Lopez stated.
The opening message was delivered by Ms. Cristita Triunfante, PCW Commissioner representing the Academe Sector.  In her message, Ms. Triunfante expressed that the forum is a very herstoric event as the last leg of the We Make Change: Women Inspiring Women Forum since President Rodrigo Roa Duterte hails from Davao and the city is recognized as one of the local learning hubs by the Philippine Commission on Women which means that the city has best practices which can be shared to other places in the country. "The forum is our way to celebrate our very own journey by listening to women of various backgrounds, profession and ages share with us their inspiring stories of change.  Thus, we will be hearing stories of joys and pains, resistances and challenges, and struggles which later resulted in fruitful outcomes that contributed to change.  As we listen to their stories, we hope to create a space where women can appreciate each other and create an environment supportive of each other… a space where we can embrace and tap each other's back.  At the end of the forum, we expect to instill in everyone's heart that we women are changemakers and we can create positive changes in our communities in our little ways," Ms. Triunfante said.
During the forum proper, exceptional women leaders and educators shared their distinctive stories and career journeys which centered on the following topics:
How ICTs help advance women's empowerment?
                        Michelle Tapia
                        Head, Globe Telecom Inc. – Education and Digital Learning Strategy
and Innovation
Embracing cultural and religious diversity 
                        Samira Ali Gutoc
Member, Bangsamoro Transition Commission
Women and Peace
Atty. Angela Librado Trinidad
Government of the Philippines Peace Panel Member
                        Office of the Presidential Adviser on Peace Process
Why is there a need for a gender-sensitive and responsive education?
                  Lourdesita Sobrevega-Chan
                        Chair, Ateneo De Davao University Research Council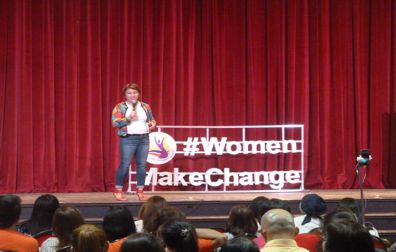 An open discussion followed after the talk of each resource person wherein some participants expressed their appreciation, shared substantial views and raised several queries. The resource persons addressed the various matters that were raised by the participants.
At the forum, all participants were provided with information materials such as Republic Act 7877 (Anti-Sexual Harassment Act of 1995), Republic Act 8353 (The Anti-Rape Law of 1997), Republic Act 9208 as amended by Republic Act 10364 (The Anti-Trafficking in Persons Act of 2003, as amended by the Expanded Anti-Trafficking in Persons Act of 2012), Republic Act 9262 (Anti-Violence Against Women and their Children Act of 2004) and Republic Act 9710 (Magna Carta of Women). Similarly, a compact disc featuring the first-ever Lupang Hinirang Music Video with An All-Women cast produced by the Philippine Commission on Women in partnership with the Government Service Insurance System was given to all  participating agencies, units, organizations, sectors, and schools.