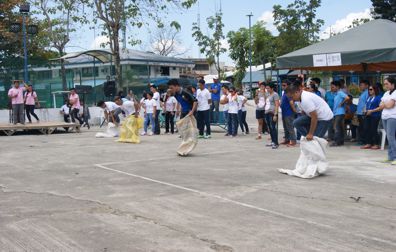 Personnel of the Mines and Geosciences Bureau Regional Office No. XIII took part in the 2016 Women's Month Culminating Program spearheaded by the Regional Development Council – Gender and Development Coordinating Committee (RDC-GADCC) on March 31, 2016 at the Philippine Ports Authority (PPA) grounds in Butuan City. With the theme "Kaayuhan ni Juana, I-apil sa Adyenda!," this year's Women's Month celebration resonates the call for gender balance in leadership and decision-making positions in public and private sectors; inclusion of women's concerns in leadership platforms and the government's development agenda; and capacitating and preparing women and girls to fulfill their ambitions.  Various national line agencies and local government units participated in the event to support the advocacy concerning Filipino women.
The event started with a Zumba session, followed by the One Billion Rising unified dance that represents advocacy to end Violence Against Women and Children (VAWC) which is a global human issue nowadays. The participants danced to express their joy and celebrate the fact that violence can be defeated through collective action. Through dance, the participants believe that people will rise to express rage against injustices and uphold the power of global solidarity.
Director Resurreccion Pueyo of the Civil Service Commission (CSC) introduced Atty. Samuel Rollo of the Commission on Elections (COMELEC) as the guest speaker of the event.  Atty. Rollo talked about the upcoming national election on May 9, 2016. He emphasized that the COMELEC has switched from Precinct Count Optical Scan (PCOS) machines to Vote-Counting Machines (VCM). He also ex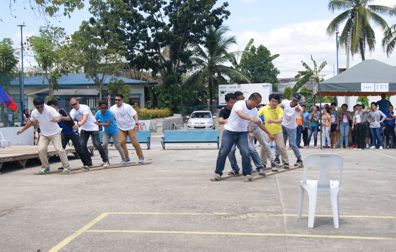 plained the new election process for the information and increased awareness of everyone. Furthermore, he mentioned the preparations done by the agency such as the series of repeated tests for each machine until the so-called Final Testing and Sealing (FTS) of the VCM as well as efforts to resolve manipulation issues.
The event concluded in the "Laro ng Lahi"facilitated by selected DENR Caraga sub-offices. The Mines and Geosciences Bureau ROXIII facilitated one of the games called sack race. Aside from bringing enjoyment and unity, the games strengthened the camaraderie among the participants.
The collective efforts of the RDC-GADCC, national line agencies and local government units in Caraga Region led to the overall success of the event.