The Mines and Geosciences Bureau Regional Office No. XIII took part in the 9th year Anniversary Celebration of the Platinum Group Metals Corporation (PGMC) on September 14, 2015 at the Platinum Heights in Brgy. Cagdianao, Claver, Surigao del Norte.  A daylong celebration filled with meaningful and delightful activities was held to mark the company's 9th year of successful operations and significant contributions to the minerals industry.
A tree planting activity to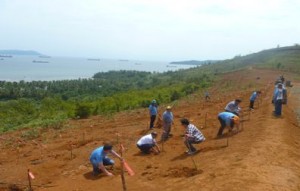 ok place in the area further down the newly blessed PGMC Chapel before the opening program. The Officer-In-Charge of the Mine Management Division, Engr. Daniel S. Belderol, together with the PGMC President, Atty. Dante R. Bravo, and the PGMC Management, planted agoho (Casuarina equisetifolia)and auri (Acacia auriculiformis) tree seedlings.
During the morning program, Atty. Bravo delivered an inspirational message. He commended the accomplishments and dedication of the PGMC Management and Staff.  He also laid emphasis on the company's commitment to environmental protection and social development.  In his simple yet powerful words marked by wisdom and love for the environment, he enthused that "if we plant one tree a day, it will keep disasters away."
In his keynote speech, Engr. Daniel S. Belderol imparted words of wisdom, appreciation, and encouragement to the Management and Staff of the Platinum Group Metals Corporation.  "May you all continue to give hope, inspiration and support to scores of people in your host and neighboring communities as you take responsible mining to a new level of commitment and relevance. May the rich experiences you have gained from your undertakings and challenges spur you on to yet greater heights of service and accountability. We wish you well in the implementation and reinforcement of your continuing programs, community projects and future endeavors," he said.
In the afternoon, Engr. Belderol, Atty. Bravo, and the PGMC Management participated in the turnover ceremony of the two-storey, five-unit classroom building of Hayanggabon Elementary School (HES). The School Principal, Ms. Beda S. Murcia, and the HES Faculty expressed their profound gratitude to the PGMC Management.  The new school building is an infrastructure development project under the Education Support Program of the Annual Social Development and Management Program for CY 2015 of the Platinum Group Metals Corporation. The Hayanggabon Barangay Captain, Hon. Rito I. Placencia, and Barangay Councilors also participated in the said event.