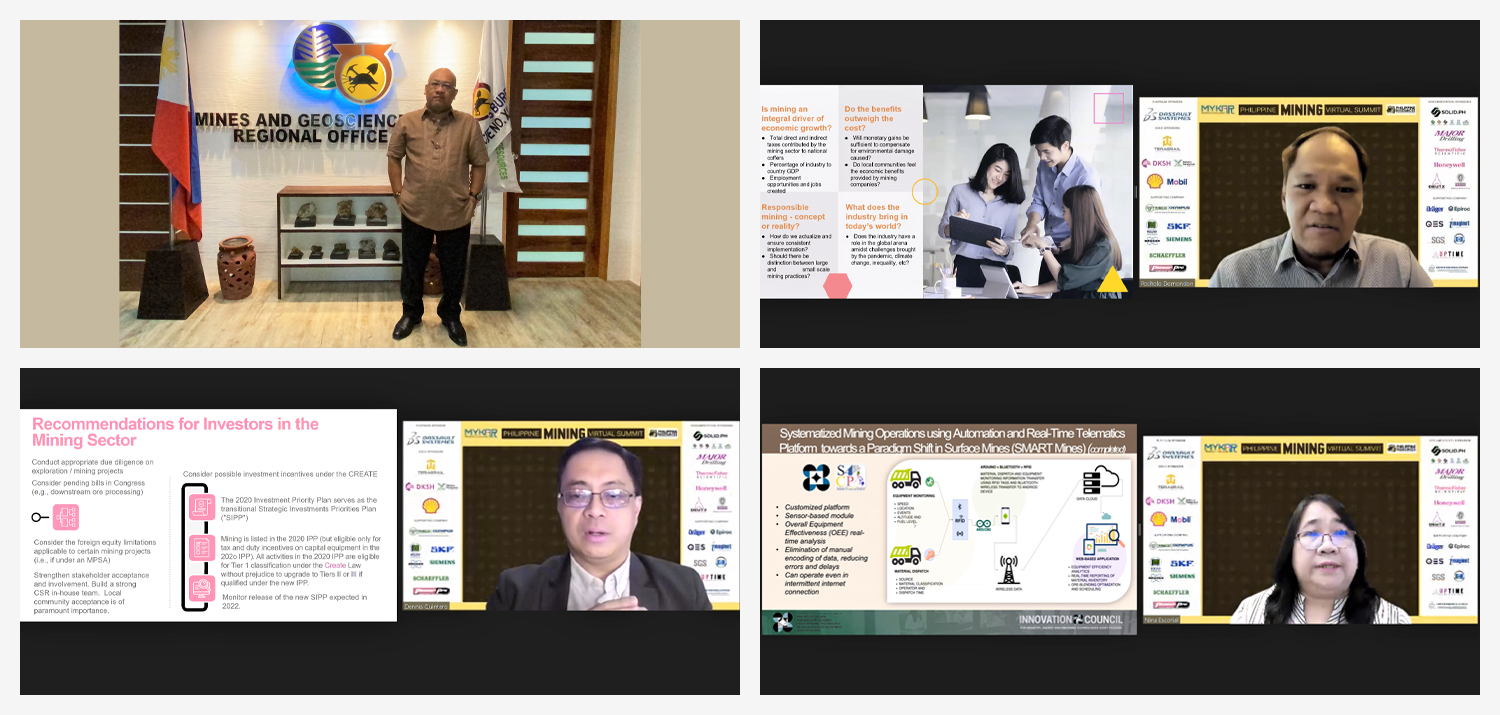 The Mines and Geosciences Bureau Regional Office No. XIII supported the Philippine Mining Virtual Summit which was held on March 16 to 17, 2022 via Zoom Platform and Facebook Live.
Attended by top executives, government authorities, policy makers, associations, investors, consultants, heavy equipment suppliers and leading industry solutions provider, the summit was organized by Mykar Events, in partnership with Philippine Resources Journal. It served as an avenue of discussions about industry and policy updates, trends, opportunities and latest technology solutions needed for upcoming and future projects of the Philippine minerals industry.
The summit formally started with the Welcome Remarks of Department of Environment and Natural Resources Secretary Jim O. Sampulna which laid emphasis on the vital role of mining as one of the key catalysts for national economic recovery and its significant contributions. It was then followed by the Keynote Speech of MGB Director Atty. Wilfredo G. Moncano which centered on the rise of the minerals industry in the Philippines. Dir. Moncano presented the status of the minerals industry together with the issues and challenges it faces. He also stated the current and upcoming mining projects.
These presentations were featured on the first day of the summit:
Sustainability of Australian Mining
Mr. Christopher Lim
Senior Trade and Investment Commissioner
Australian Trade and Investment Commission
Management Systems Approach to Safety and Health in Mining
Dr. Yuka Ujita
Senior Specialist for Occupational Safety and Health
International Labour Organization
ICMM Role to Play in Creating a Safer and More Sustainable Mining and Metals Industry
Ms. Veronica Martinez
Manager, Innovation and Climate Change
International Council on Mining and Metals
On the second day of the summit, Mr. Pocholo Domondon, Partner of PricewaterhouseCoopers Philippines delivered the Keynote Speech. Moreover, the following presentations were discussed at length:
The Caraga Minerals Industry
Engr. Larry M. Heradez
Regional Director
MGB Regional Office No. XIII
Updates on Rules and Regulations in Mining
Atty. Dennis A. Quintero
Partner
Quisumbing Torres Law Office
Environmental Sustainability through Technology in Mining
Ms. Maya Muchlis
Founder and Executive Director
Women in Mining and Energy Indonesia
The Future of the Mining Industry in the Philippines
Engr. Niñaliza H. Escorial
Deputy Executive Director
Department of Science and Technology- Philippine Council for Industry, Energy, and Emerging Technology Research and Development
At the end of each session, an open forum ensued wherein the participants raised issues and concerns related to the presentations. Various video presentations were viewed throughout the summit as well.
By:

MARIE PENNELOPE E. FANG
Administrative Officer IV