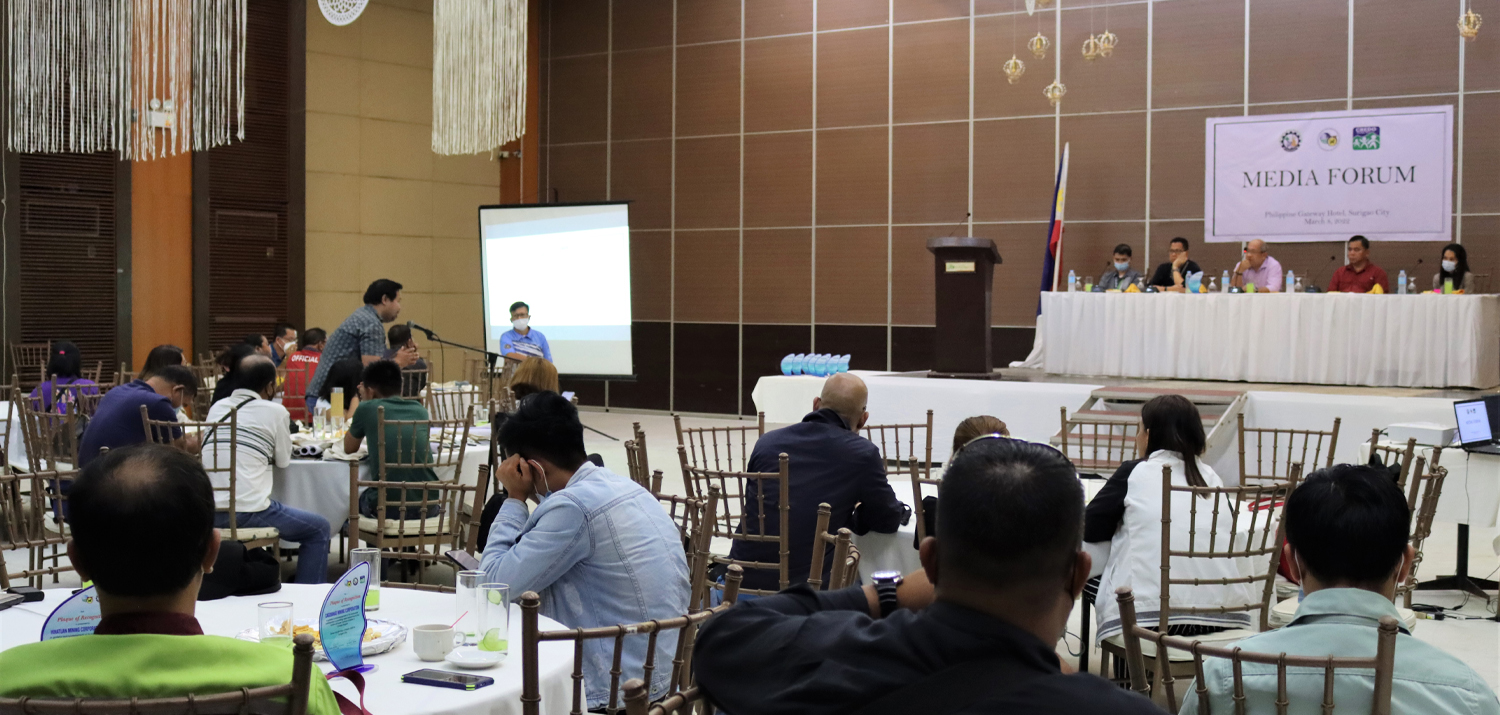 The Mines and Geosciences Bureau Regional Office No. XIII, in cooperation with the Chamber of Mines of Caraga Region Incorporated (CMCRI) and the Community Relations, Education & Development Officers Organization Caraga, Inc. (CREDO Caraga, Inc.), conducted a Media Forum on March 8, 2022 at the Philippine Gateway Hotel in Surigao City.
The Philippine Information Agency (PIA) Caraga Regional Office and Surigao City media practitioners participated in the activity. Resident Mine Managers, key personnel from Caraga mining companies and various mining stakeholders were in attendance as well.
At the forum, MGB Caraga Regional Director Larry M. Heradez delivered the Welcome Remarks. "The collaborative efforts of the Caraga minerals industry, mining firms from other regions and the Mines and Geosciences Bureau affirm their support to the welfare of affected communities in the Provinces of Surigao del Norte and Dinagat Islands … Strengthened by a strong faith in God and a renewed sense of community spirit, the typhoon victims see much hope in the months to come despite the trail of destruction left by Super Typhoon Odette," RD Heradez stated. It was followed by the presentation of Engr. Corsino L. Odtojan, CMCRI President and Vice President for Operations of Platinum Group Metals Corporation (PGMC), which highlighted the invaluable relief efforts of the Caraga minerals industry and mining companies from other regions in the aftermath of Super Typhoon Odette.
In appreciation of their significant contributions, Plaques of Recognition were given to the following mining companies that extended the much-needed assistance to the typhoon-hit Provinces of Surigao del Norte and Dinagat Islands:
Apex Mining Company Incorporated
ADFIL Corporation
Adnama Mining Resources, Inc.
Agata Mining Ventures, Inc.
Cagdianao Mining Corporation
Carrascal Nickel Corporation
Century Peak Corporation – Nickel Mining Project & Parcel II Mining Project
CTP Construction and Mining Corporation – Adlay Mining Project & Dahican Nickel Project
Equi-Parco Construction Corporation
Greenstone Resources Corporation
Hinatuan Mining Corporation – Tagana-an Nickel Project
Kafugan Mining Incorporated
Libjo Mining Corporation
Malayan Nickel Mining Corporation
Marcventures Mining and Development Corporation
Mindanao Mineral Processing and Refining Corporation
Oriental Vision Mining Philippines Corporation – Palhi Project
Pacific Cement Philippines Incorporated
Pacific Nickel Philippines Incorporated
Philippine Mining Development Corporation
Philsaga Mining Corporation
Platinum Group Metals Corporation
Rosario Manobo Mining Corporation
Silangan Mindanao Mining Company, Inc.
Sinosteel Philippines H. Y. Mining Corporation
SR Metals Incorporated
Taganito HPAL Nickel Corporation
Taganito Mining Corporation
Westernshore Nickel Corporation
At the Question and Answer Session, the media practitioners raised various issues and concerns that were discussed and noted well by the MGB Regional Office No. XIII, CMCRI and CREDO Caraga, Inc. The said session was facilitated by Ms. Susil D. Ragas, Provincial Coordinator of Surigao del Norte Information Center of PIA Caraga Regional Office, who acted as the moderator.
The activity concluded with the Closing Remarks of Mr. Alex C. Arabis, CREDO Caraga, Inc. President and PGMC Community Relations Manager. The activity aimed to heighten public awareness of the disaster preparedness, emergency response, rescue efforts and relief assistance of the Caraga minerals industry before and after the onslaught of Super Typhoon Odette on December 16, 2021.  It also aimed to foster the participation of and dialogue between the media and the mining stakeholders in achieving their common goals of responsible mining, ecological sustainability and socioeconomic development.
By:

MARIE PENNELOPE E. FANG
Administrative Officer IV