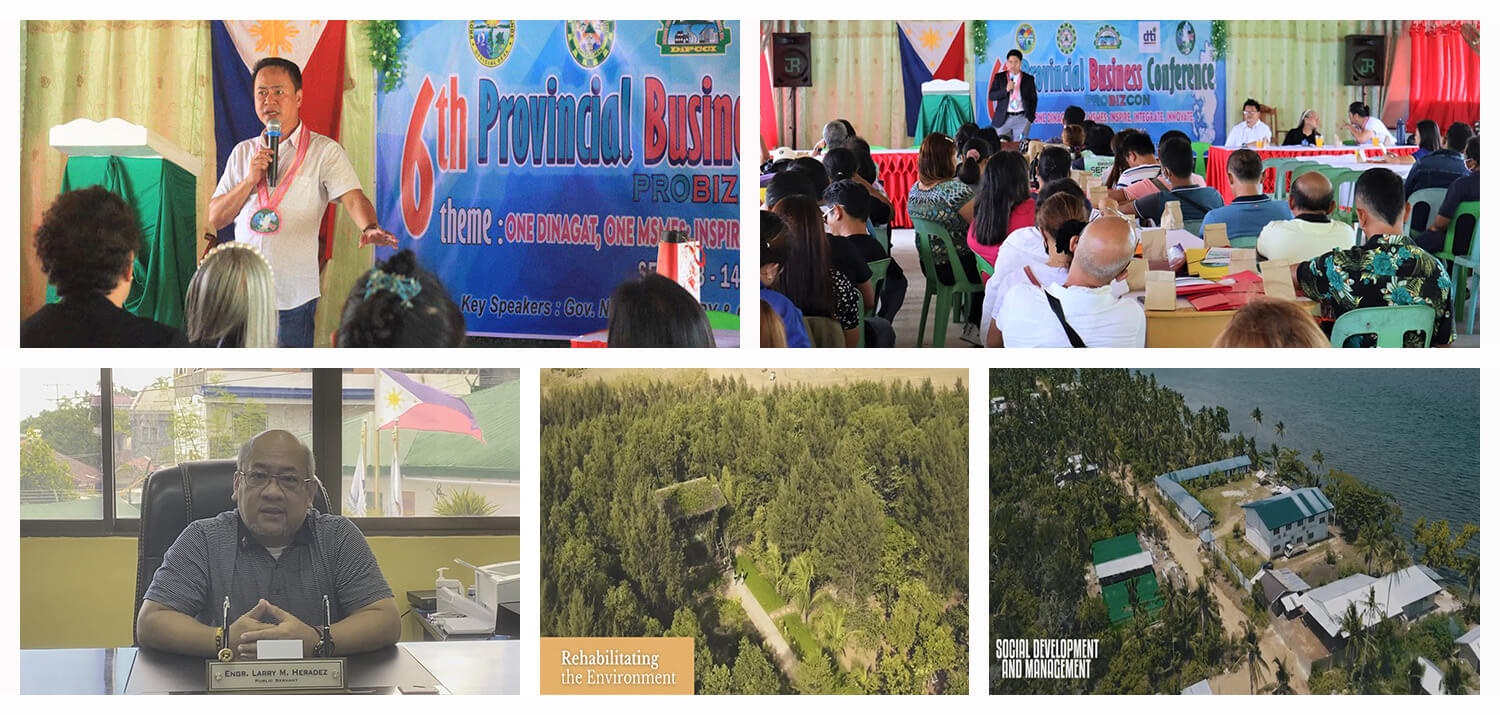 The Mines and Geosciences Bureau Regional Office No. XIII attended the 6th Provincial Business Conference of Dinagat Islands on September 13 to 14, 2022 at the Macaldo Function Hall in Brgy. Justiniana Edera, Municipality of San Jose, Province of Dinagat Islands.
With the theme One Dinagat, One MSMEs: Inspire. Integrate. Innovate., the event aimed to ensure proper development of businesses in the province. The two-day event was a collaborative undertaking of the Provincial Government of Dinagat Islands, the Department of Trade and Industry and the Dinagat Province Chamber of Commerce and Industry, Inc. Participants from national line agencies, local government units, mining firms, and other stakeholders attended the event.
At the event, Dinagat Islands Governor Nilo P. Demerey, Jr. delivered the Keynote Speech. Governor Demerey took into account the growth and development of the province through businesses, including the programs implemented in the sector with the Provincial Government and Congressional Office. He talked about the issues and concerns of the agencies regarding water supply, electricity and roads that also affect businesses. He also talked about the tertiary education subsidy or scholarship for students. On the whole, he laid emphasis on the importance of running efficient businesses and other enterprises in the province.
For the part of MGB Regional Office No. XIII, a video message of Regional Director Larry M. Heradez and a video presentation entitled Adherence of the Province of Dinagat Islands Minerals Industry to the Four Pillars of Responsible Mining were viewed at the event. Mr. Carl Orven C. Eludo, Planning Officer and Chief of Staff of the Office of the Regional Director, represented RD Heradez at the event. He also took part in the open forum that followed wherein mining issues and concerns were raised and discussed.
By:

MARIE PENNELOPE E. FANG
Administrative Officer IV