Caraga mining companies gained various distinctions at the 63rd Annual National Mine Safety and Environment Conference (ANMSEC) on November 15-18, 2016 in Baguio City.
A yearly event that highlights the minerals industry's commitment to the promotion of sustainable development and proactive responsibility towards safety, environment and social development, the Annual National Mine Safety and Environment Conference is organized by the Philippine Mine Safety and Environment Association (PMSEA) in collaboration with the DENR-Mines and Geosciences Bureau.  The event also gave prominence to best practices and relevant innovations in the minerals industry. The theme for the 2016 ANMSEC is "63 Years of Responsible Mining… Moving Forward By Doing It Right."
Diverse participants from mining companies, government agencies, private firms, academic institutions and the media gathered to intensify responsible mining and sustainable development advocacies.
Various activities such as Tree Planting, Press Conference, Sportsfest, Mining Exhibit, 4th Community Relations Officers Conference, and the 2nd PMSEA Student Congress took place during the four-day event. Mining stakeholders and luminaries took part in the Minerals Industry Symposium at the CAP-Camp John Hay Convention Center.
On the last day of the conference, scores of staunch supporters from large-scale mining companies, several universities and the Mines and Geosciences Bureau Central Office and Regional Offices participated in the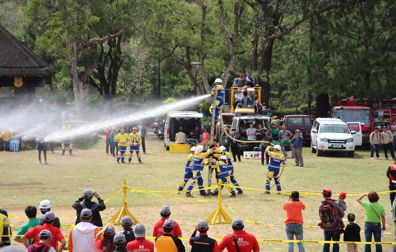 Minerals Industry Parade to affirm the minerals industry's commitment to occupational safety and health, sound environmental management and social responsibility.  At the Melvin Jones Stadium, the Mine Safety Field Demonstration and Field Competition took place.  Fire-fighting, first aid, hand mucking, machine drilling and tug of peace were the events during the day after which an awarding ceremony was held.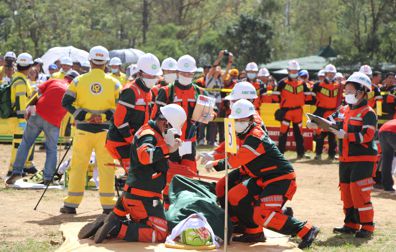 The conference culminated in the Testimonial Dinner and Annual Awards Night wherein the best mining forest and the best achievements in the fields of mine safety and health, environmental protection and social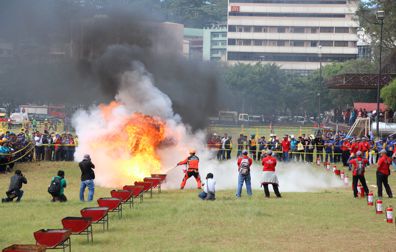 development through the Presidential Mineral Industry Environmental Award were accorded their well-deserved recognition. Caraga mining companies received awards that affirm the region's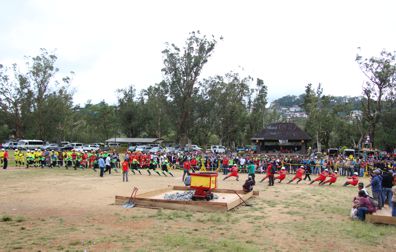 significant accomplishments and commitment to responsible mining.
2016 PRESIDENTIAL MINERAL INDUSTRY ENVIRONMENTAL AWARD (PMIEA)
| | | |
| --- | --- | --- |
| Award            | Category | Company |
| PMIEA | Surface Mining Operation | SR Metals, Inc. |
| Titanium | Surface Mining Operation | Hinatuan Mining Corporation – Tagana-an Nickel Project |
| Titanium | Surface Mining Operation | Taganito Mining Corporation – Nickel Silicate Ore Mining Project |
| Titanium | Surface Mining Operation | Platinum Group Metals Corporation – Cagdianao Nickel Expansion Project |
| Titanium | Surface Mining Operation | Agata Mining Ventures, Inc. |
| Platinum | Surface Mining Operation | Greenstone Resources Corporation – SianaGold Project |
| Platinum | Surface Mining Operation | Cagdianao Mining Corporation |
| Titanium | Mineral Processing | Taganito HPAL Nickel Corporation |
| Platinum | Mineral Processing | Silangan Mindanao Mining Company, Inc. – Silangan Project |
2016 BEST MINING FOREST
| | | |
| --- | --- | --- |
| Ranking | Category | Company |
| Winner | Metallic Category | Taganito Mining Corporation – Nickel Silicate Ore Mining Project |
| 1st Runner-Up | Mineral Exploration | Silangan Mindanao Mining Company, Inc. – Silangan Project |
2016 SAFEST MINES AWARDS
| | | |
| --- | --- | --- |
| Ranking | Category | Company |
| Winner | Most Improved Safety Performance | Platinum Group Metals Corporation – Cagdianao Nickel Expansion Project |
| Runner-Up | Extraction | Taganito HPAL Nickel Corporation |
| Runner-Up | Surface | SR Metals, Inc. |
| Runner-Up | Exploration A            | Silangan Mindanao Mining Company, Inc. – Silangan Project |
| | |
| --- | --- |
| Best Surface Mine Supervisor | Engr. Royvel V. Jumalon – Platinum Group Metals Corporation |
| Best Surface Miner | Mr. Junrey A. Roda – SR Metals, Inc. |
| Best Surface Safety Inspector | Mr. James M. Paje – Taganito Mining Corporation |