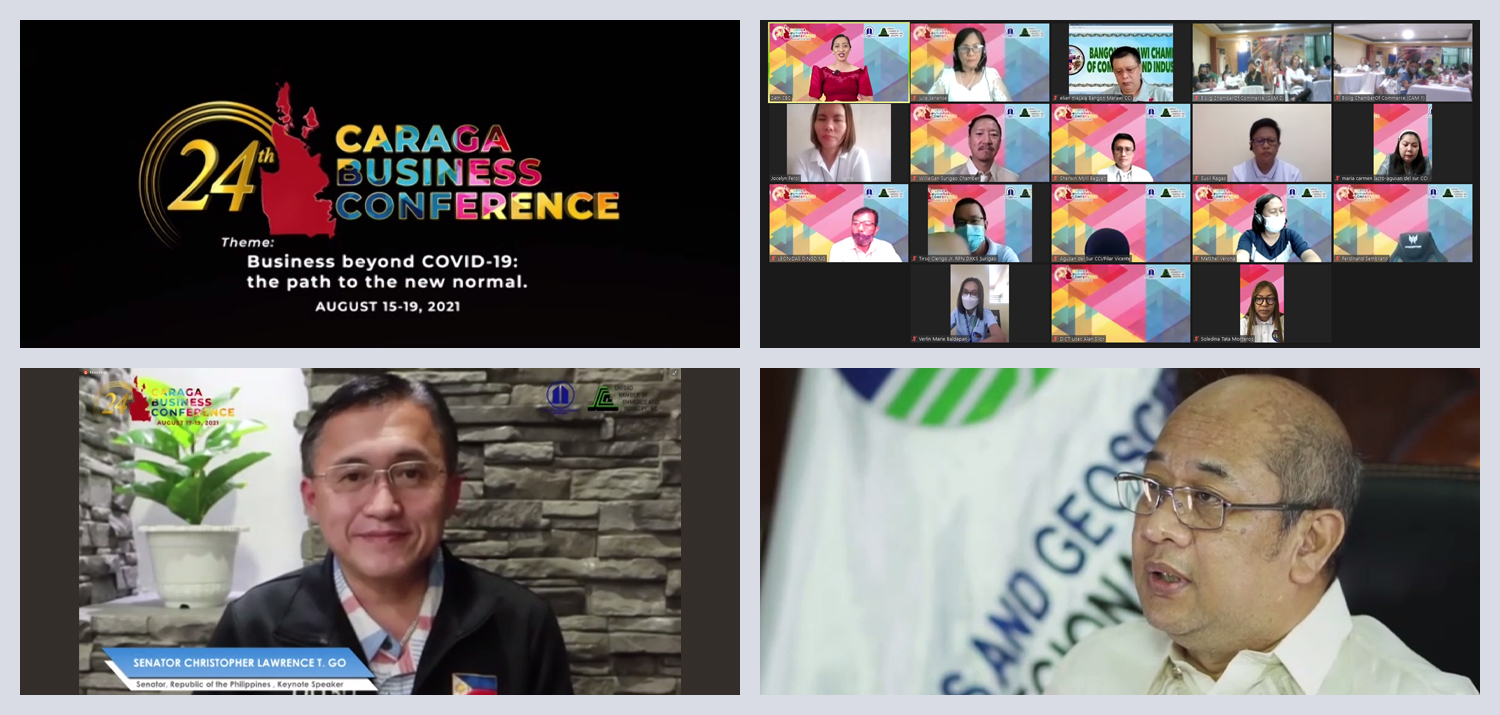 The Mines and Geosciences Bureau Regional Office No. XIII played a part in the 24th Caraga Business Conference which was conducted by the Surigao Chamber of Commerce and Industry, Inc., in coordination with the Provincial Government of Surigao del Norte and City Government of Surigao, via Zoom Platform on August 17 to 19, 2021.
The theme of the conference is Business beyond COVID-19: The Path to the Next New Normal. It aims to compel the imminent restructuring of the global economic order and the need to determine the scale and complexity of action required at the state and business levels amidst a health crisis of immense proportion.
On the first day of the event, August 17, the opening of the Agri-Trade Fair and Exhibit, in partnership with the City Agriculture and Provincial Agriculture Offices, was held. The Virtual Business Matching, Chamber Management Forum and Presentation of Chamber Best Practices were also held. Messages were delivered by Surigao del Norte Provincial Governor Francisco T. Matugas, Surigao City Mayor Ernesto U. Matugas Jr., Philippine Chamber of Commerce and Industry-Eastern Mindanao Regional Governor Julie P. Senense and Surigao Chamber of Commerce and Industry, Inc. President Willie A. Gan.
On August 18, the conference featured the Keynote Address of Senator Christopher Lawrence T. Go which was followed by a media briefing led by the Philippine Information Agency and Kapisanan ng mga Brodkaster ng Pilipinas-Surigao del Norte. Messages were also delivered by Surigao del Norte District I Representative Francisco Jose F. Matugas III and Surigao del Norte District II Representative Robert Ace S. Barbers. In the afternoon, the conference featured the following plenary session topics and resource speakers:
"Ease of Doing Business in New Normal"
Atty. Jeremiah B. Belgica, Director General of ARTA
"MSME's: Recognized as Major Economic Drivers in the Pandemic Landscape"
Mr. Arnold Faelnar, Provincial Director of Department of Trade and Industry-Surigao del Norte
"Impact and Prospect of COVID-19 on Business and Economy in Caraga Region"
Ms. Priscilla R. Sonido, CESO IV, Regional Director of National Economic and Development Authority-Caraga
"Digital/Virtual Transactions:  New Normal Economic System in Pandemic Ecosystem"
Usec. Alan A. Silor, Undersecretary for Resilient Government Emergency Communication of Department of Information and Communication Technology
"Tourism Industry Preparations from Re-Opening in New Normal Protocols"
Ms. Nelia H. Arina, OIC-Regional Director of Department of Tourism-Caraga
"Status and Prospects of Value Chain in Caraga"
Mr. Abel James I. Monteagudo, Regional Executive Director of  Department of Agriculture-Caraga
"Prospects in Mining Industry as Catalyst for Recovery"
Engr. Larry M. Heradez, OIC-Regional Director of Mines and Geosciences Bureau-Caraga
In his presentation, MGB Caraga OIC-Regional Director Heradez laid emphasis on the singular role of the minerals industry in the advancement of education, preservation of the environment, promotion of socioeconomic progress, preservation of multicultural communities and enrichment of human life which will continue to give forth transformative impacts if the tenets of sustainable mining and the common good are taken to heart.
With the issuance of Executive Order No. 130 signed by President Rodrigo Duterte on April 14 which lifted the nine-year moratorium on new mineral agreements stipulated in Executive Order No. 79 issued by former President Benigno Aquino III, OIC-Regional Director Heradez underscored that mining will serve as an economic recovery option in this time of pandemic. "Here in Caraga, there are about 5 reported mining projects under the priority list.  These mining projects could potentially generate billion pesos worth of revenues and thousands of employment opportunities, which can then be allocated to the COVID-19 containment effort and to provide financial assistance to the poor and most importantly help our economy recover." he added.
At the end of each plenary session, the respective moderators set forth the highlights of each presentation. They also facilitated the open forum wherein the resource speakers responded to and discussed the issues and concerns raised by the participants. Each resource speaker was then awarded with a Plaque of Appreciation for his/her contribution and support to the event.
On August 19, the closing activities of the 24th Caraga Business Conference, namely Virtual Business Matching, Presentation of Resolutions and Banking/Financial Forum, took place. It was also the last day of the Agri-Trade Fair and Exhibit.
By: Marie Pennelope E. Fang
Administrative Officer IV
Office of the Regional Director