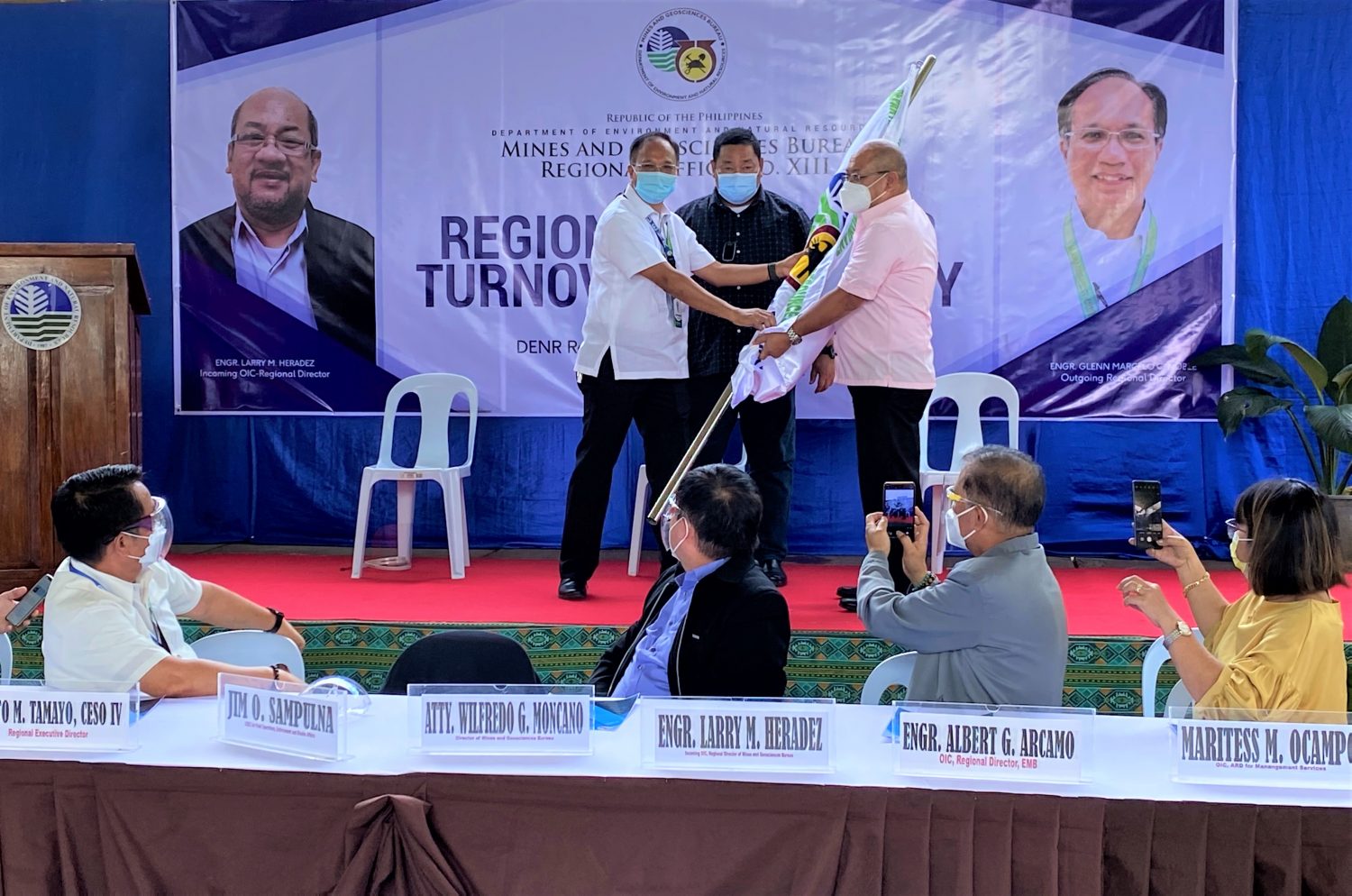 In a simple turnover ceremony held on May 5, 2021 at the Department of Environment and Natural Resources (DENR) Caraga Regional Office in Butuan City, DENR Undersecretary for Enforcement, Mining and Muslim Affairs Jim O. Sampulna officiated the turnover of leadership for the Mines and Geosciences Bureau (MGB) Regional Office No. XIII between outgoing Regional Director Glenn Marcelo C. Noble and incoming OIC-Regional Director Larry M. Heradez.
The said ceremony was held in compliance with MGB Special Order No. 2021-055 dated April 15, 2021 issued by MGB Director Wilfredo G. Moncano and DENR Special Order No. 2021-238 dated May 7, 2021 issued by DENR Secretary Roy A. Cimatu reassigning RD Noble to MGB MIMAROPA and designating Engr. Heradez as the OIC-RD of MGB Regional Office No. XIII.
The MGB Director, Atty. Wilfredo G. Moncano; DENR Caraga Regional Executive Director, For. Nonito M. Tamayo; Environmental Management Bureau OIC-Regional Director, Engr. Albert G. Arcamo; DENR Caraga OIC-Assistant Regional Director for Technical Services, Atty. Claudio A. Nistal Jr. and OIC-Assistant Regional Director for Management Services, For. Maritess M. Ocampo took part in the event. Messages were delivered by RD Noble, OIC-RD Heradez, Usec. Sampulna, RED Tamayo, and Dir. Moncano.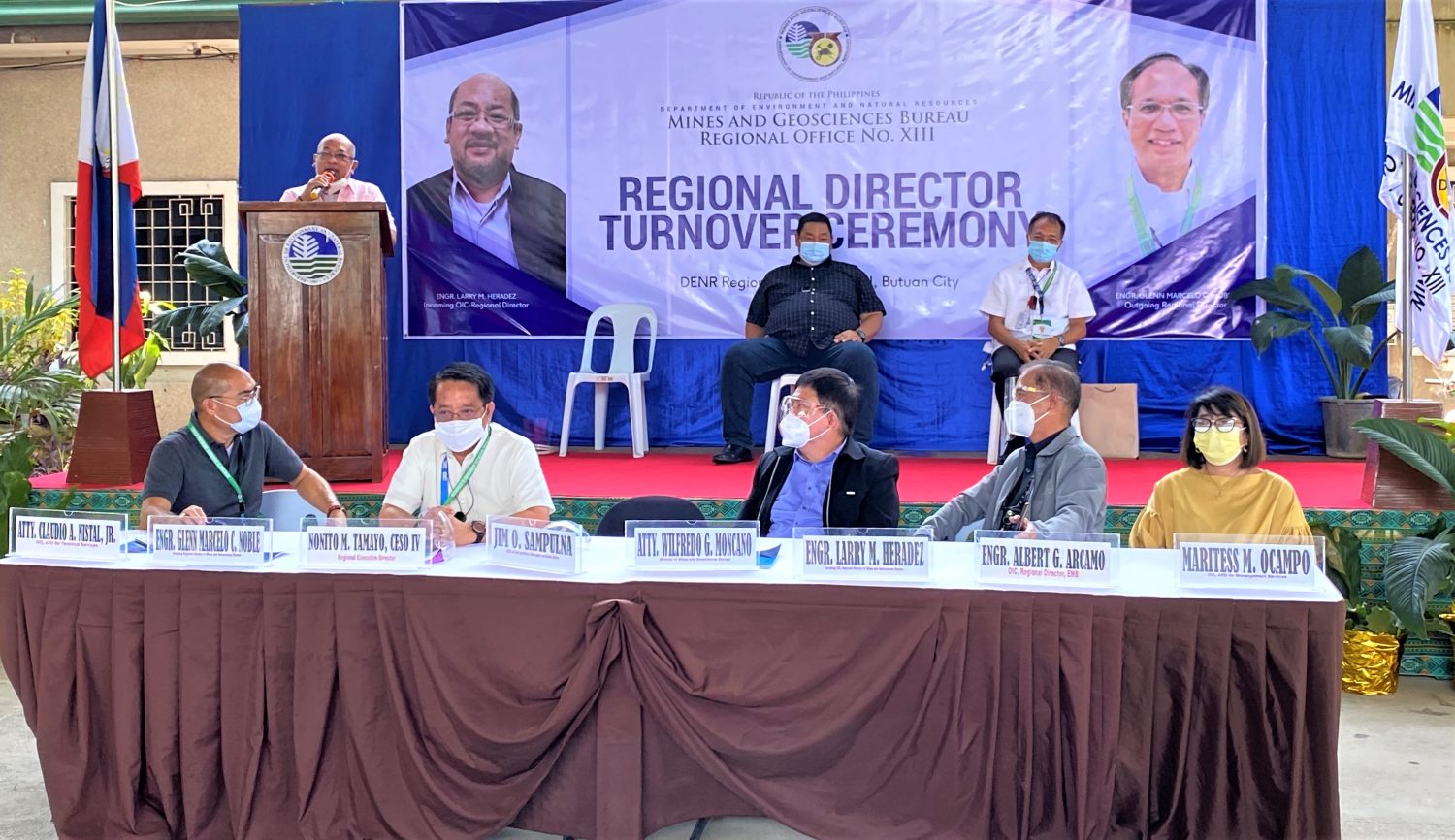 "As contained under DENR Administrative Order No. 2018-18 which is the Establishment of a Centralized Management and Coordinative Mechanism at the Regional Offices of DENR, MGB and EMB and Designation of the DENR Regional Director as the Regional Executive Director Providing Overall Command of Regional Operations for the efficient implementation of programs and rules and regulations pertaining to the environment, I count on your cooperation and in return you can count on our support including our PENROs and CENROs just as we are counting on you in the implementation of rules and regulations pertaining to mining laws. Together with the more than 1,000 men and women of DENR Caraga, we welcome you! … We are always there to provide you help," said RED Tamayo to OIC-RD Heradez.
On the same note, Dir. Moncano delivered words of gratitude and encouragement for the two officials. "Assuming the position of Regional Director is a very important experience for any official of the MGB or DENR for that matter. My congratulations to the incoming OIC-Regional Director, Engr. Larry Heradez! I would also like to thank Engr. Glenn Noble for taking care of MGB Regional Office No. XIII for almost 3 years. RD Noble has made a lot of improvements in organizational matters and has managed all the pressures well. And my expectation is that incoming OIC-Regional Director Larry Heradez will also do the same. Being the Regional Director of any Regional Office comes with responsibility, authority and accountability. And these are the standards that the Regional Directors are measured. And for those who will be doing well, of course there will be promotions or recognition but all of us officers in government are measured on these three parameters," stated Dir. Moncano. He also said that there are high expectations for the mining sector as it might be one of the saviours of the battered Philippine economy according to Finance Secretary Carlos Dominguez III. With that in mind, he mentioned that MGB has prepared the projects classified as priority projects phase 1, phase 2 and phase 3 on the line in order for the sector to contribute to the recovery of the economy.
Furthermore, Dir. Moncano expressed his hope that MGB Regional Office No. XIII will expedite the processing of mining applications as the mining capital of the country. "Let us apply and comply with the Ease of Doing Business Law. With that, I have high expectations for MGB Regional Office No. XIII to be the lead region in terms of contribution to the mining economy. I expect that more mining projects will be processed and will be able to secure all the permits that will proceed to development and commercial extraction and of course we will not forget about the environment and social acceptability because these will be part of the work that the MGB will be doing. It is very important for MGB to push strongly toward mining projects to proceed to development of commercial extraction not only for the large-scale but also for the small-scale mining sector. If that instruction will be heeded, that will be good for the MGB, good for the DENR and good for the country," added Dir. Moncano on a positive note. Selected officials and staff of DENR Caraga and MGB Regional Office No. XIII as well as some mining sector representatives witnessed the event where minimum health protocols were strictly observed.
By: Marie Pennelope E. Fang
Administrative Officer IV
Office of the Regional Director