The annual Presidential Mineral Industry Environmental Award (PMIEA), Best Mining Forest Contest-Mining Forest Program (MFP), and Safest Mines Awards (SMA) continued to pursue their goals in recognizing the exemplary efforts and achievements of the minerals industry in the protection of environment and ecology. The said awards aim to encourage participation, intensify public awareness, and improve the quality of life of Filipinos. Notwithstanding the challenges of the current pandemic, the Caraga minerals industry continues to thrive in fulfilling its commitments and achieving the awards.
The PMIEA was re-established through Executive Order No. 374, s. 2004 in compliance with the policy that mineral exploration and operation shall be pro-environment and pro-people in sustaining wealth creation, improving quality of life, and managing mining activities in an environmentally responsible manner. The scope of the said recognition includes programs/projects/activities implemented for environmental protection and enhancement of mining areas; social development of the host and neighboring communities; safety and health; land use improvement; exploration and mining site rehabilitation; and final decommissioning, among others.
Awards are conferred to deserving groups and/or companies engaged in mining activities in the country under the following categories: Mineral Exploration, Quarry Operation, Surface Mining Operation, Underground Mining Operation and Mineral Processing. The selection covered the accomplishments and performance for July 2019 to June 2020. The following Caraga mining companies received awards based on the results of the offsite validation undertaken from December 2020 to February 2021:
Presidential Mineral Industry Environmental Award
Category
Company
Mineral Processing Plant
Taganito HPAL Nickel Corporation
Surface Mining Operation
Cagdianao Mining Corporation
Category
Company
Award
Surface Mining Operation
Hinatuan Mining Corporation
Platinum
Surface Mining Operation
Platinum Group Metals Corporation
Platinum
Best Mining Forest
Category
Company
Award
Mineral Processing Plant Category
Taganito HPAL Nickel Corporation
Winner
Mineral Processing Plant Category
Mindanao Mineral Processing and Refining Corporation
2nd Runner-Up
Metallic Category
Hinatuan Mining Corporation
1st Runner-Up
Safest Mines Awards
Category
Company
Award
Safest Surface Mining Category
Cagdianao Mining Corporation
Runner-Up
Safest Mineral Processing-Extraction Plant Category
Taganito HPAL Nickel Corporation
Runner-Up
Best Mines Personalities
Category
Name
Company
Best Surface Miner
Sulson S. Dumanig
Platinum Group of Metals Corporation
Best Surface Safety Inspector
Aldrin L. Resullar
Hinatuan Mining Corporation

With the theme "Resilient and Responsible Mining Industry Under the New Normal," the awarding ceremony took place on March 18, 2021 at the DENR Social Hall in Quezon City and virtually streamed to the official MGB Facebook account and Microsoft Teams. At the ceremony, Usec. Jim O. Sampulna, DENR Undersecretary for Enforcement, Mining, and Muslim Affairs, delivered the keynote message of DENR Secretary Roy A. Cimatu.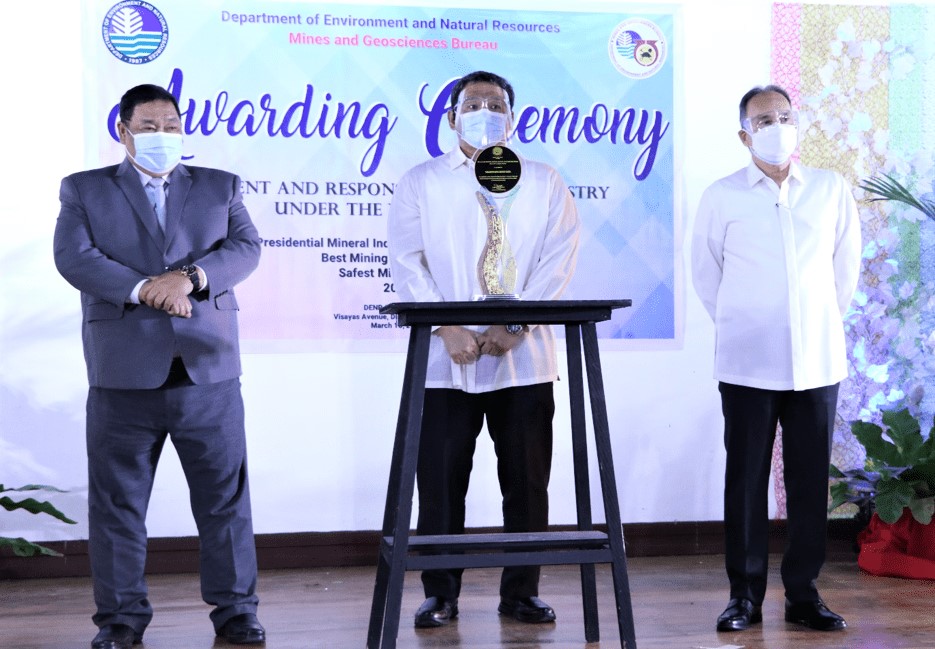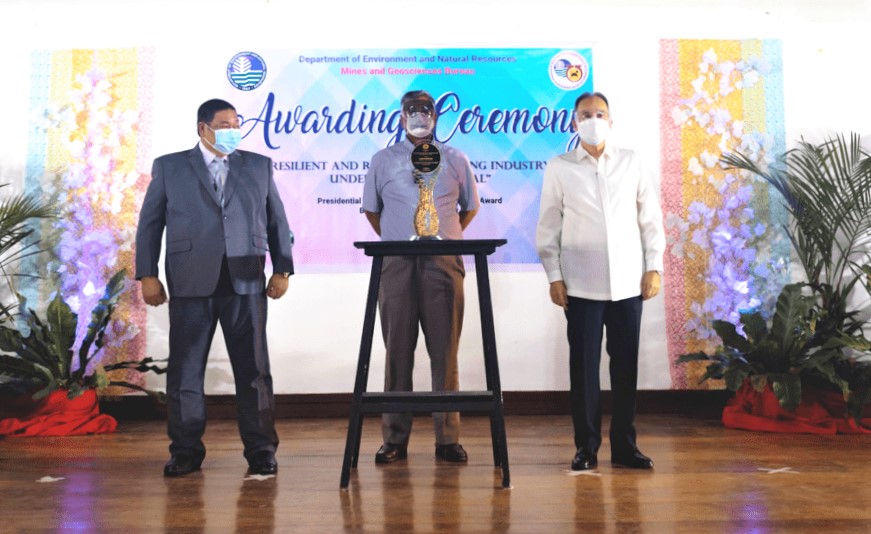 By: LIZLIT C. CABAG
MRFC Secretariat
Mine Safety, Environment and Social Development Division