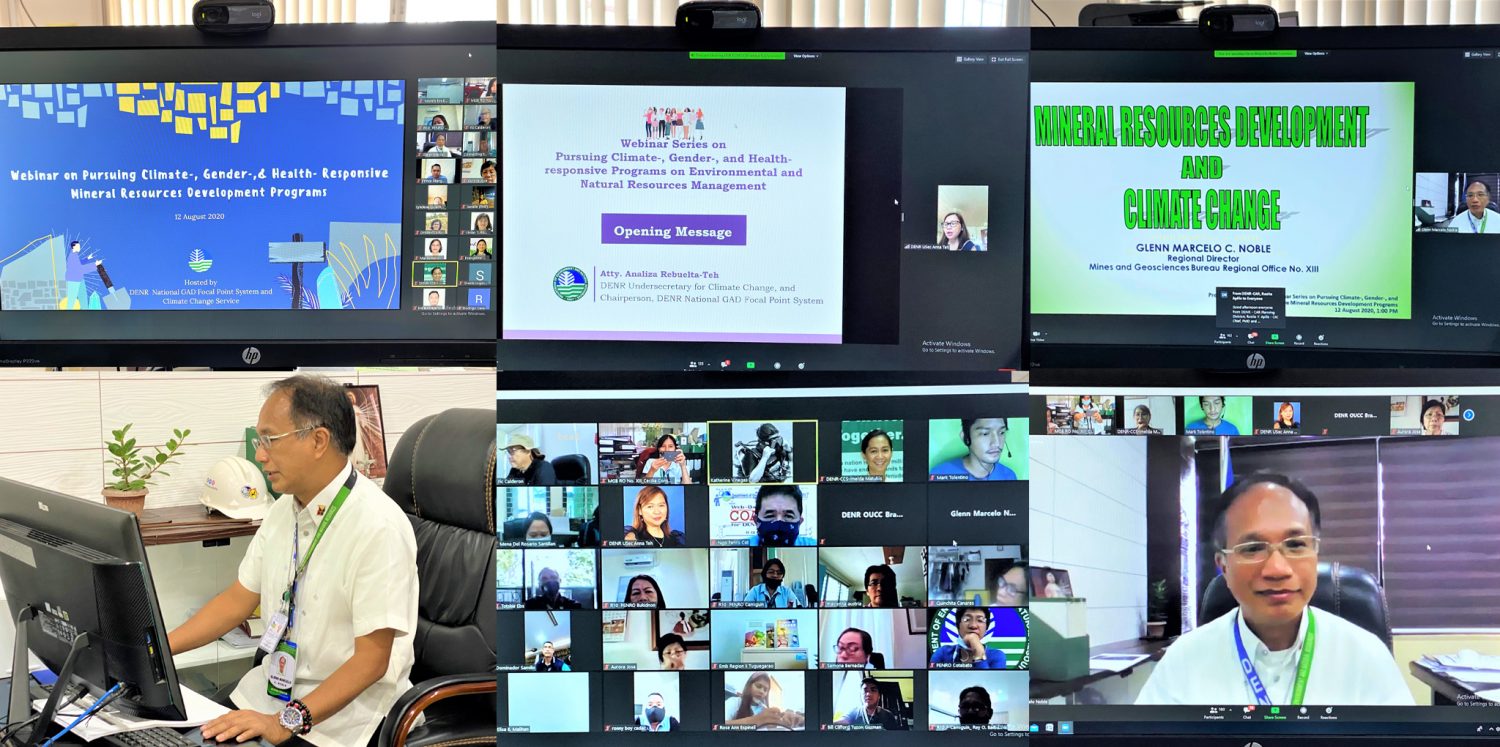 The Mines and Geosciences Bureau (MGB) Regional Office (RO) No. XIII played a part in the Webinar on Pursuing Climate-, Gender-, and Health-responsive Mineral Resources Development Programs via Zoom Platform on August 12, 2020.
The said webinar is the last of the seven-part webinar series which was hosted by the Department of Environment and Natural Resources (DENR) National Gender and Development Focal Point System and Climate Change Service. It was attended by the Directors, GAD Focal Persons and Planning Chiefs of the DENR Central Office Services, Bureaus and Attached Agencies and the Regional Executive Directors, GAD Focal Persons, Climate Change Focal Persons, Planning Chiefs, and Regional Public Affairs Officers of DENR Regional Offices. From the Mines and Geosciences Bureau and Environmental Management Bureau Regional Offices, Regional Directors, GAD Focal Persons, Climate Change Focal Persons, Planning Chiefs, and Regional Environmental Education and Information Officers also took part in the said activity.
Atty. Analiza Rebuelta-Teh, DENR Undersecretary for Climate Change and DENR National GAD Focal Point System Chairperson, kick-started the webinar  with a message.  Usec. Teh gave emphasis to the importance of gender mainstreaming in environment and natural resources management.  She also stressed the critical role of women in the crafting of policies and programs and improvement of local natural resource governance, conservation efforts and more sustainable livelihoods.  Further, she underlined the need to promote gender equality and equity which will intensify participation, benefits and development outcomes.  Prior to the presentations, Usec. Teh encouraged the participants to ask questions and share their experiences in order for them to have a productive webinar.
At the webinar, MGB Caraga Regional Director Glenn Marcelo C. Noble served as a Resource Speaker and gave a presentation entitled Mineral Resources Development and Climate Change.  RD Noble discussed the following topics in his presentation:
Mining in our Everyday Life and Impacts of Mining
21st Session of the Conference of Parties (COP 21) and the Paris Agreement
The Special Report on 1.5°C Global Warming
The Growing Role of Minerals and Metals for a Low Carbon Future
Low Carbon Future – Higher Demand for Mineral/Metals and Climate Smart Mining
RD Noble led the participants to an engaging discussion about the role of minerals and metals for a low carbon future.  He expounded on the contribution of Working Group III to the Fifth Assessment Report (AR5) of Intergovernmental Panel on Climate Change (IPCC) and stated the following points for the participants to ponder:
Green energy technologies required for a low-carbon future will lead to a growth in demand for a wide range of minerals and metals;
The shift to a low-carbon future will result in significant opportunities for resource-rich countries; and
Increase in metals demand depends on both inter-technology choices, such as the balance between wind and solar power, and intra-technology choices, such as the type of wind technology used (onshore or offshore).
The IPCC is the United Nations body for assessing the science related to climate change.
On the same note, RD Noble pointed out that mining is crucial to clean energy transition but it accounts for up to 11% of global energy use.  He imparted that developing countries and emerging economies must adopt mining practices that minimize carbon and material footprints and that the local implications for sustainable development need to be factored into a "climate smart" approach.  As such, he introduced the concept of climate smart mining to the participants. Climate smart mining is the sustainable extraction and processing of minerals and metals to secure supply for clean energy technologies while minimizing the climate and material footprint throughout the value chain in consonance with the United Nations Sustainable Development Goals.  From a climate perspective, climate smart mining initiatives will support more efficient mining processes with enhanced resilience, particularly with concerns on greenhouse gas emissions and local air, energy needs, landscape impacts and adaptation.
As a final point, RD Noble recommended the following course of action that the DENR and the MGB can take in the promotion of sustainable mineral resources development:
Conduct dialogue on Climate Smart Mining

Determine which technologies and metals are needed for the transition to low-carbon future;
Discuss the feasibility of integrating renewable energy into mining operations and revisit policies; and
Discuss knowledge gaps and best practices.

Generate maps showing potential sources of identified strategic minerals and metals; and
Initiate further collaborative research on the identification of geological sites and the associated processing technologies of rare earth mineral deposits.
RD Noble's discussion was then followed by GAD Consultant Katherine Vinegas' presentation on Gender and Mineral Resources Development. After each presentation, the participants raised issues and concerns which the presenters tackled and noted with consideration.
Towards the end of the activity, Usec. Teh expressed her gratitude for the participants' all-out support to the DENR webinar series.
By Marie Pennelope E. Fang
Office of the Regional Director