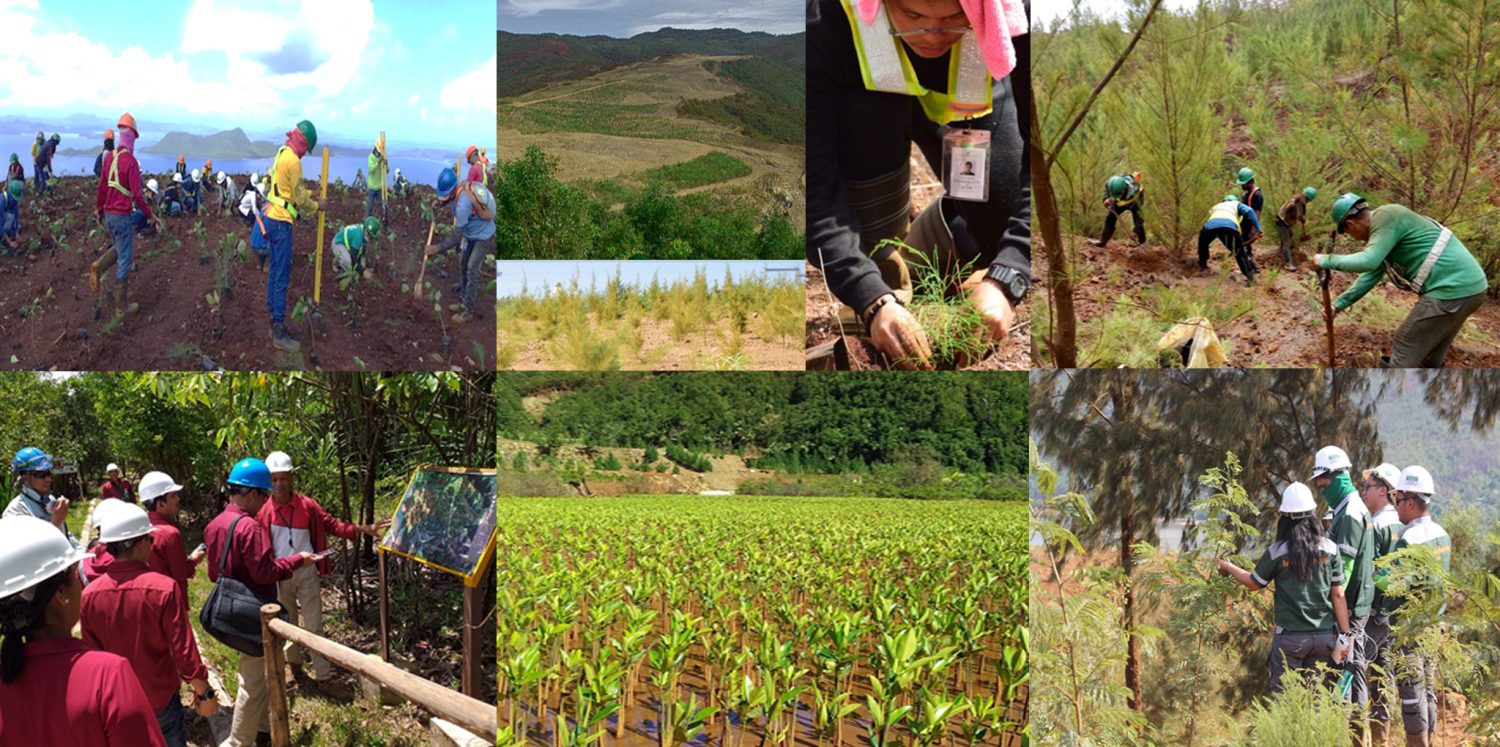 In an effort to carry on with its intensive reforestation program, Caraga mining firms have planted a total of 1,435,442 seedlings and reforested more than 751.96 hectares of mined-out areas, buffer zones, mangroves and other applicable planting sites in CY 2019.
Caraga mining firms have implemented the Mining Forest Program (MFP) pursuant to the Department of Environment and Natural Resources (DENR) Administrative Order (DAO) No. 22, series of 1989. The MFP, originally the Adopt-A-Tree Adopt-A-Mining Forest Program, was initiated in 1989 and requires the establishment of mining forests within mined-out areas, waste dumps, denuded and sparsely vegetated lands and areas adopted by the mining firms through a Memorandum of Agreement.
As of December 2019, twenty-nine (29) mining firms have planted a total area of 8,269 hectares with more than 12 billion seedlings of indigenous and exotic species including mangrove propagules since the MFP started in the region back in 1990.
The average reforestation survival rate for 2019 is 92% which is above the Philippine national standard of 80%. Most seedlings and wildlings raised in the mine nurseries include endemic species such as Mancono, Dipterocaps, Lahi-lahi, Molave, Nato, Amugis, Sua-sua, Magutambis, Narra, Maribuhok, Bitanghol, Payospos, Malatambis, Malaalmaciga, Bitaog, Anabiong, Duguan, Kalingag, Antipolo, Sagimsim, Binunga, Malatuai, Kamagong, Bikwas and Buntan, among others. Exotic trees like Auricoliformis, Mangium, Bagras, Mahogany and Agoho are also cultivated.
Pursuant to Executive Order No. 399, series of 1997, the exemplary practices and commitments of firms involved in underground and surface mining operation, quarry operation, mineral exploration, and mineral processing which contribute to sustainable mineral development and responsible management of the environment and natural resources are recognized through the Presidential Mineral Industry Environmental Award (PMIEA) given at the Annual National Mine Safety and Environment Conference (ANMSEC).
In relation to the objective of the PMIEA, the MFP recognizes mining, mineral processing and mineral exploration firms in their reforestation programs within and outside the mining tenement. The MFP-National Executive Committee selects the Best Mining Forest winners and runners-up in four categories namely Mineral Exploration, Non-Metallic, Metallic and Mineral Processing.
Three mining firms from the region received the PMIEA for Best Mining Forest Program at the 66th ANMSEC in November 2019. For Metallic Category, Hinatuan Mining Corporation and Agata Mining Ventures, Inc. emerged as the 1st and 2nd Runners-Up, respectively. On the same note, Mindanao Mineral Processing and Refining Corporation was awarded the 2nd Runner-Up for Mineral Processing Category.
The Caraga mining firms' unwavering implementation of the Mining Forest Program is a testament to their compliance with all existing environmental laws and policies, rehabilitation efforts for the preservation of the Caraga forest cover and commitment to the enrichment of human life in the form of livelihood opportunities for their stakeholders.
By Enjie G. Pacillos-Cañete
Mine Environmental Management Section
Mine Safety, Environment and Social Development Division