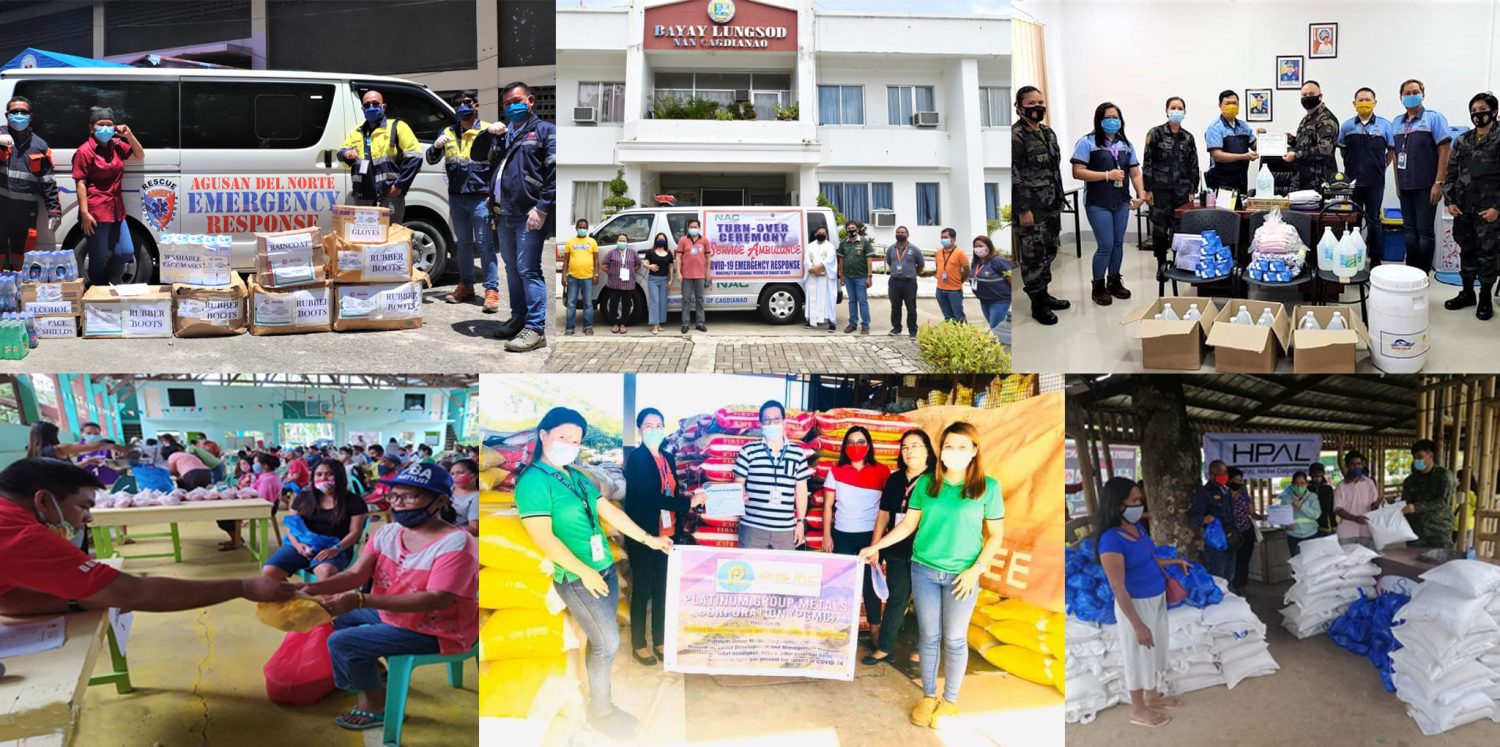 The Caraga minerals industry continues to respond to the call of Republic Act No. 11469, otherwise known as the "Bayanihan to Heal as One Act", which was signed into law by President Rodrigo Roa Duterte on March 24, 2020.
In consonance with the Bayanihan to Heal as One Act, the Mines and Geosciences Bureau Acting Director, Atty. Wilfredo G. Moncano, issued a Memorandum authorizing the mining companies to realign unutilized funds of the Social Development and Management Program in support of affected impact and non-impact communities due to the COVID-19 pandemic. Eighteen (18) Caraga mining companies have realigned a total amount of PhP 125,429,924.58 as of May 27, 2020 for the said purpose, of which a total amount of PhP 106,801,998.67 has been expended as follows:
| | |
| --- | --- |
| Implementation Period | Amount Expended |
| April 1-8, 2020 | PhP 16,411,360.10 |
| April 9-15, 2020 | PhP 14,309,118.20 |
| April 16-22, 2020 | PhP 15,895,075.50 |
| April 23-29, 2020 | PhP 11,918,426.82 |
| April 30-May 6, 2020 | PhP 4,845,147.72 |
| May 7-13, 2020 | PhP 10,188,019.34 |
| May 14-20, 2020 | PhP 13,722,782.43 |
| May 21-27, 2020 | PhP 19,512,068.56 |
A considerable number of mining and non-mining communities including front liners have reaped benefits from the relief efforts and other means of support of the Caraga mining companies. The much-needed assistance came in the forms of PPE (face masks and shields, disposable gowns, surgical and examination gloves and shoe covers), hygiene kits (rubbing alcohol and hand sanitizer), disinfectants, medical supplies (thermal scanners, medicines, vitamins and medical apparatus), food supplies and packs, assorted vegetable seeds, survival garden kits, and service ambulance, truck and banca (boat). At the same time, some mining companies have carried out the thorough disinfection of their impact communities; utilized their shuttle buses to provide residents on necessary errands with free rides and even provided bancas to haul rice packs for distribution to families living on islands. In the same way, some mining companies have supported local livelihoods by sourcing bulk quantities of fresh, organic vegetables from farmers and other goods from local establishments. These vegetables and other goods were included in the relief packs distributed to numerous communities of which the Indigenous Peoples such as the Mamanwas are an integral part. Indigenous communities throughout Caraga Region have benefited from the relief assistance of mining companies. In addition, a number of mining companies have constructed isolation rooms for their respective communities.
The eighteen (18) Caraga mining companies that supported the implementation are as follows:
Agusan del Norte
Agata Mining Ventures, Inc.
SR Metals Inc.
SEMCO Exploration and Mining Corporation
Agusan del Sur
Mindanao Mineral Processing and Refining Corporation
Philsaga Mining Corporation
Surigao del Norte
Adnama Mining Resources, Inc.
Hinatuan Mining Corporation
Pacific Nickel Phils., Inc.
Platinum Group Metals Corporation
Taganito HPAL Nickel Corporation
Taganito Mining Corporation
Surigao del Sur
Carrascal Nickel Corporation
CTP Construction and Mining Corporation
Marcventures Mining and Development Corporation
Province of Dinagat Islands
AAM-PHIL Natural Resources and Development Corporation
Cagdianao Mining Corporation
Libjo Mining Corporation
Sinosteel Philippines H.Y. Mining Corporation
These collaborative efforts of the Caraga minerals industry affirm its constant response to the call of Bayanihan and solid commitment to the welfare of mining and non-mining communities amidst the fight against the COVID-19 pandemic.