In its continuing effort to strengthen its commitment to provide assistance and protect the welfare of its members pursuant to the 2017 MGBEA-MGB Collective Negotiations Agreement, the Mines and Geosciences Bureau Employees' Association held the Employees Performance Management, Welfare and Development Workshop on May 28 to June 1, 2018 at Brentwood Suites in Quezon City with the theme "Sa Malusog at Maunlad na Kawani, Epektibong Serbisyo Publiko ay Madali" in conjunction with the 16th Annual National MGBEA Convention.
 At the event, two Resource Speakers from the Civil Service Commission presented the Study on the Implementation of the Economic and Non-Economic Benefits in the Collective Negotiation Agreement and Public Sector Unionism. The implementation of the Three (3) Year Strategic Plan of the 2017-2020 MGBEA-MGB Collective Negotiations Agreement was discussed during the plenary.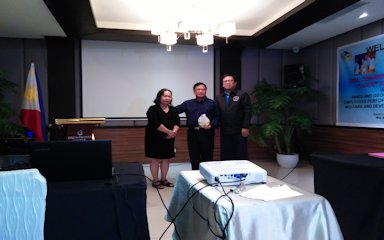 Rep. Ciriaco "Acoy" S. Calalang graced the said gathering. In his speech, Rep. Calalang assured the participants that he will sponsor the Magna Carta for Government Personnel in Geosciences, Mineral Resource Development and Environmental Management.
The MGBEA National Council has crafted a Magna Carta for MGB personnel because of the amended DBM-DOH Joint Circular No. 1, s. 2012 which limits the entitlement of the Magna Carta benefits to Public Health Workers and resulted in the diminution or deprivation of the said benefit to MGB personnel. With the anticipation that the enactment of Magna Carta into law is a lengthy process, the MGBEA National Council also crafted an Executive Order with the same objective of the Magna Carta. The National Council with the representatives of the fifteen (15) Chapters prepared an endorsement of the draft EO and Magna Carta to the Management for consideration and endorsement to the Philippine Congress and the Office of the President.
Other concerns were also discussed during the five-day gathering such as Crafting of Guidelines for Recuperation Program; Availment of Annual Physical Examination for MGB Employees; Provident Fund; Provision of Safety and Emergency Kit; Availment of Compensatory Time-Off; Formulation of Guidelines for Economic and Non-Economic Benefits and Other Benefits for MGB Employees and Organizational Concerns.