Rising to Challenges (RCh) is the theme of the 33rd Philippine Chemistry Congress which was held on May 30-June 1, 2018 at the Philippine International Convention Center in Roxas Boulevard, Manila. The theme is not only a fitting abbreviation for registered chemists (RCh) but it intrinsically expresses the spirit of the present-day chemistry community that uses chemistry as a key to unlock the solutions to many challenges. Two chemists from the Mines and Geosciences Bureau Regional Office No. XIII joined over a thousand professionals, participants, researchers and paper presenters from the chemical industry and the academe as well as policymakers and leaders from government partner institutions in the annual gathering of chemists which has been in existence for thirty-three years.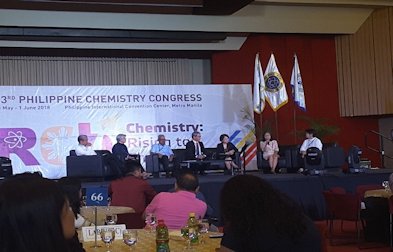 Esteemed guest speakers highlighted the topics on chemical security, efficient regulation of chemicals of concern, laboratory accreditation, environmental chemical regulations, water analysis and the chemicals weapons convention. Discussions and paper presentations revolved around the role of the chemical industry in pushing innovations that can sustain economic growth, stimulating research and development agenda in close collaboration with the academe and defining more targeted interventions in order to sustain momentum of economic resurgence.
With the passage of the Chemistry Law (RA 10657), chemical laboratories are now seeking accreditation, debutante laboratory technicians are getting licensed and the academe has its hands full in the preparations for the soon-to-be implemented post K-12 Chemistry Curriculum. This also remains the biggest challenge for MGB chemical laboratories along with their compliance with stringent requirements to secure the necessary permits and their ability to sustain high quality standards in the delivery of reliable and accurate laboratory services.
At the end of the congress, the directions for the development of chemistry in the Philippines was discussed by Dr. William G. Padolina, current President of the National Academy of Science and Technology and former Secretary of the Department of Science and Technology. Discussants included representatives from the Professional Regulation Commission, chemical industry, higher education, research group and the K-12/STEM program of the Department of Education. Some of the proposed roadmaps are the acceleration of the development and retention of a critical mass of Filipino talents in chemistry and the enhancement of the transformative role of chemistry as a catalyst for change in steering the nation towards resilience and prosperity.