In order to upgrade the capability of the Mine Rehabilitation Fund Committees (MRFCs) and Multipartite Monitoring Teams (MMTs) in evaluating and monitoring the mandatory environmental and social compliances of mining operations as required by law, the Mines and Geosciences Bureau Regional Office No. XIII, in partnership with the Caraga Mine Environmental Management Council (CMEMC), spearheaded the MRFC and MMT Capacity Enhancement Seminar on January 26-27, 2017 at the Philippine Gateway Hotel in Surigao City.
Large-scale mining companies in the region have been in operation for more than a decade.  Correspondingly, MRFCs and MMTs have carried out their functions for that same length of time. Of these years, significant changes in the practices and operations of the mining industry have been observed in which the MGB has deemed it necessary to capacitate and enhance the existing capabilities of the evaluating and monitoring bodies. The two-day activity aimed to re-orient and update the members on their respective roles and recent developments in the industry which are vital to checking the compliances of the companies with mandatory obligations.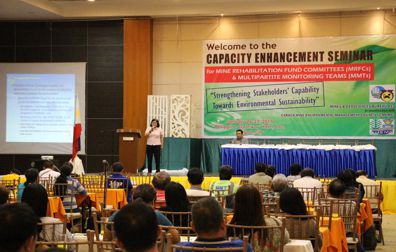 The seminar was packed with topics centered on the salient features of laws and regulations governing the functions and responsibilities of the MRFC and the MMT. The topics presented included the following: Social and Environmental Provisions of the Philippine Mining Act and Mine Mitigation and Rehabilitation by Engr. Rhoda M. Noble of MGB Central Office; Roles, Duties and Responsibilities of MRFC and MMT by Engr. Francis Glenn N. Suante of MGB RXIII; Salient Features of the National Greening Program by Forester Jholyvil C. Embat of DENR Caraga Regional Office; Legal Framework of the Philippine Environmental Laws and Compliance Monitoring Process by Mr. Carlo D. Dacera of the Environmental Management Bureau (EMB) XIII; Hazardous Waste Management or Republic Act 6969 by Ms. Honey C. Gimo of EMB XIII; and Ecological Solid Waste Management Act or Republic Act 9003 by Ms. Diana Rivera of EMB XIII. Mr. Angel Fernandez of AGF Consulting Group – Philippines also presented the Process of Transition to the Latest Version of Environmental Management System (EMS)/ISO 14001. In addition, Forester Enjie P. Cañete of MGB RXIII also shared her South Korea experience with the Mine Reclamation Corporation in their Mine Hazard Prevention/Reclamation Technology and Policy Exchange.
An open forum followed at the end of every presentation wherein some participants raised questions and sought clarifications on some matters related to the topics.
SR Metals Inc., Taganito Mining Corporation, Greenstone Resources Corporation, Hinatuan Mining Corporation (Taganaan Nickel Project), Cagdianao Mining Corporation, Agata Mining Ventures, Inc., Platinum Group Metals Corporation, Silangan Mindanao Mining Company, Inc., and Taganito HPAL Nickel Corporation gave their respective multimedia presentations featuring best practices in mining operations that can be replicated by other mining companies.  Recognized for their exemplary performance in mine safety, environmental protection and social development implementation, these mining companies received accolades from the Philippine Mine Safety and Environment Association (PMSEA) during the 63rd Annual National Mine Safety and Environment Conference on November 15-18, 2016 in Baguio City.
The keen involvement of approximately 300 participants led to the overall success of the two-day activity.