After the completion of the geohazard mapping and assessment of landslide and flood-prone areas, the Mines and Geosciences Bureau is now conducting the geaohazard mapping and assessment of the country's coastal areas. A team of geologists and mapper from the Geosciences Division of MGB Regional Office No. XIII conducted the Coastal Geohazard Mapping and Assessment from July to August 2016 in southern coastal municipalities in the Province of Cebu as assigned by MGB Central Office.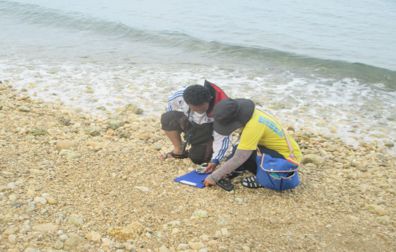 The fieldwork was divided in two phases. Five municipalities were covered during Phase 1 which was conducted from July 6-25, 2016 while four municipalities were covered during Phase 2 which was carried out from August 11-30, 2016. During the 1st phase of the fieldwork, the team assessed the coastal municipalities of Boljoon, Oslob, Santander, Ginatilan and Malabuyoc. The coastal areas in the Municipalities of Alegria, Badian, Moalboal and Alcantara were surveyed during the 2nd phase of the fieldwork.
The Coastal Geohazard Mapping and Assessment was conducted by mapping the shoreline through a handheld Global Positioning System (GPS) device. Beach profiling was also undertaken to determine the morphology of a beach and to compare beaches or coastlines in different locations. In the same way, evidence of erosion such as exposed roots of vegetation as well as eroded roads and infrastructure in the area was noted. The locals were interviewed to gather anecdotal records and typhoon history of the area as well.
The Coastal Geohazard Mapping and Assessment Program will give the public substantial information on coastal areas or shorelines that are experiencing erosion or prone to erosion and accretion. The said program aims to provide vital information to policymakers and the public in order to make them understand the risk of hazards, enhance preparedness, reinforce response, foster resilience and minimize the adverse impacts of disasters. On the same note, the output of this program serves as an important reference in adaptation and crafting land use, coping mechanisms and development and management plans of affected communities and stakeholders.