In line with this year's target of the Mines and Geosciences Bureau, personnel of MGB ROXIII-Geosciences Division participated in the Workshop on the Standardization of Methodologies for the Geologic Quadrangle Mapping of Region 3 conducted by MGB Central Office on March 7 to 10, 2016 at the Contemporary Hotel in Manila.
The workshop aimed to standardize the methodologies to be used and discuss the necessary procedures to be done such as rock sampling and appropriate map symbols. Every team (ROs and CO) was given 2 quadrangles  ̶̶̶̶  one raw quad and another quad for updating.
The four-day workshop included presentations of various resource speakers and selected MGB technical personnel. Discussions and agreements on the standard methods were made during the workshop. On the fourth day, a field practice was conducted in Tanay, Rizal.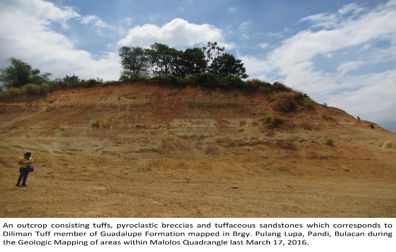 After the workshop, the teams proceeded to their assigned areas. The MGB ROXIII-GSD team mapped the Malolos Quadrangle from March 11 to 23, 2016.  The team paid a courtesy call on the officials of the Provincial Government of Bulacan and went to Malolos City as the first base camp.  After a week, the team moved to Baliuag, the second base camp, to easily map the eastern portion of the quadrangle.
The team mapped the Alupipey Quadrangle from March 28 to April 25, 2016.  The first base camp is the Municipality of Alfonso Castañeda, Nueva Vizcaya Province covering the south to western portion of the quadrangle. After two weeks, the team moved to Dupax del Norte covering the west to northern portion of the quadrangle.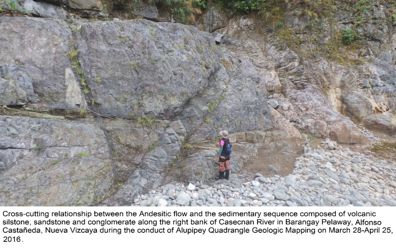 The last base camp is the Municipality of Nagtipunan, Quirino Province wherein the team covered the eastern half of the quadrangle. Unlike other highly accessible areas, the target area in Barangay Matmad is about 40-kilometer linear distance from the municipal proper and can only be accessed by pump boat via Cagayan and Casecnan Rivers.  The team fly-camped for three days and two nights to reach Matmad where they mapped the remaining portion of the quadrangle.
After the geologic quadrangle mapping activity, the MGB ROXIII-GSD team returned to Surigao City.