Personnel of the Mines and Geosciences Bureau ROXIII attended the Public Hearing conducted by Silangan Mindanao Mining Company, Inc. (SMMCI) on October 14, 2015 at the Municipal Gymnasium in Tubod, Surigao del Norte.
As one of the steps included in Environmental Impact Assessment (EIA) process, the public hearing is a requirement in SMMCI's application for an Environmental Compliance Certificate (ECC) for their Silangan Copper-Gold Project. Representatives from different government agencies like Department of Agrarian Reform, Department of Environment and Natural Resources, Department of Education, National Commission on Indigenous Peoples and local government units (LGUs) were present. Similarly, the concerned residents of the impacted barangays of the said project participated in the gathering to listen and express their opinions and insights.
On behalf of the Mines and Geosciences Bureau ROXIII, Engr. Ador J. Patiño delivered a message during the program. Before the public hearing started, Engr. Esperanza Sajul of the DENR-Environmental Management Bureau Central Office gave a brief presentation on the objectives of the activity as well as the process flow of obtaining an ECC for environmentally critical projects.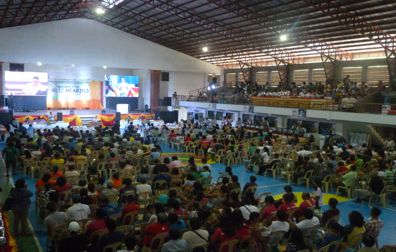 During the public hearing, the presentors from SMMCI thoroughly discussed the following topics: Project History, Change of Mine Plan, Tailings Storage Facility Water Management, Seepage Control, Potential Environmental Impacts, Environmental Management, Social Activities to Preserve the Environment, Water Balance, Hydrology and Hydrogeology, Proposed Water Distribution Scheme, Strategic Relocation Plan, Considerations for Relocation Sites, Talent Acquisition Policy/Employment Policy, Scope Barangays of Public Employment Service Office (PESO)/Barangay Employment Service Office (BESO), Baseline Highlights of the People, Community Development Programs and LGU Share of National Wealth.  They have given a comprehensive presentation on every topic using the simplest terms in order for everyone to clearly understand the information specially the technical part of the project. They also showed detailed maps, models, photos and statistics to support their presentations.
After the presentations, Mr. Carl Louie Santiago, DENR-EMB Central Office Case Handler, stated the house rules of the open forum.  For. Reynaldo S. Digamo, DENR-EMB Caraga Public Hearing Officer, presided at the open forum. Various relevant concerns were raised by the public such as water source and employment. The questions were answered properly and suggestions were well taken. Although some written questions were not discussed due to time constraints, For. Digamo assured the public that each of their questions were received and turned over to SMMCI for appropriate action.
The public hearing concluded with closing remarks from the DENR-EMB Central Office representatives, in which the next steps in the EIA process were mentioned.