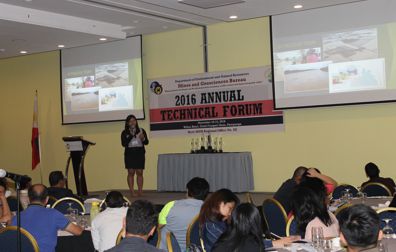 The Mines and Geosciences Bureau conducted the 2016 Annual Technical Forum with the theme "The Mineral Industry and The Geosciences: Challenges and Opportunities in the Changing Times" on November 10-12, 2016 at the Widus Hotel in Clark Freeport Zone, Pampanga.
This year's forum was hosted by MGB Regional Office No. III headed by OIC/Regional Director Lope O. Cariño, Jr.  Marking its 18th year, the said event is the first ever technical forum to be conducted outside Metro Manila.
As the keynote speaker, Regional Executive Director Israel C. Gaddi talked about his work stint at the Mines and Geosciences Bureau. He challenged the participants to preserve their dignity and integrity as MGB employees. Reminding everyone of their great accountability as public servants, Dir. Gaddi urged the participants to serve the public to the best of their abilities, practice honesty in their work, evade corruption and learn to live with people in their workplace. In addition, he expressed his hope that there will be more entries for next year's technical forum.
The members of the Board of Judges were Regional Director Arnulfo Cabantog, Engr. Ludwig John Pascual and Engr. Manuel Banaag.
The official logo of the 2016 Annual Technical Forum was a pinnately compound leaf which symbolizes thirst for knowledge and professional development of each MGB employee.
A total of 26 technical papers were presented and several posters were exhibited. MGB personnel who participated in trainings abroad were asked to present posters. These posters contained the background of the training, training objectives, components of the training and relevance to MGB's thrusts and priority programs.
During the forum, productive discussions on the scope of the technical papers presented were deliberated. The forum is an avenue to share views, experiences, and find solutions in an integrated manner to solve pressing issues especially on environmental concerns.
MGB Regional Office No. XIII presented a paper entitled Geohazard Assessment of River Scouring and Historical River Morphology of Daywan River in Claver, Surigao del Norte.  The authors of the paper are Mr. Romeo M. Dalodado, Chief of the Geosciences Division /Chief Geologist; Ms. Kate A. Boquilon, Geologist II; and Mr. Beda Louie O. Cagampang, Geologist II.  Ms. Boquilon presented the said technical paper.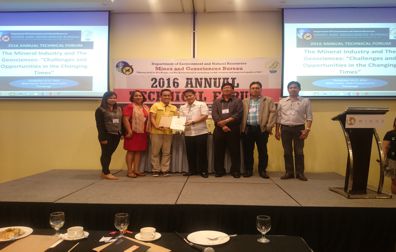 As recipients of overseas trainings, three MGB employees took part in the poster presentation. Mr. Romeo M. Dalodado presented a poster about the Training Program on Capacity Development for Immediate Access and Effective Utilization of Satellite Information for Disaster Management. Component 1: Satellite Data Characteristics, Ways of Acquisition and Utilization for Post Disaster Analysis which was conducted in Jakarta, Indonesia on August 3-18, 2015. Ms. Cecilia S. Lerio-Consuegra attended the CCOP-JMG Advanced Course in Geochemical Analysis: Base Metals by ICP-OES and Gold by Fire Assay / Cupellation Techniques from March 8-15, 2015 at Kuantan, Pahang  Malaysia. Ms. Christie Q. Asumen-Apale participated in the User's Operations Training Of Thermo Scientific NITON XL3t GOLDD+XRF Analyzer at Thermo Fischer Scientific (HK) Limited, Shatin, New Territories, Hong Kong last March 3-4, 2015.
At the awarding ceremony, the paper entitled Subsidence Hazard Susceptibility for Mabini, Bohol by Mr. Lawrence R. Zamora, Ph.D., Ms. Kristalyn B. Jarical, Ms. Ollyn T. Balignot, Mr. Jordan B. Gahisan and Mr. Danilo De Guzman of MGB Regional Office No. IX won the Best Technical Paper. Mr. Lawrence R. Zamora, Ph.D. was also given the Best Presenter Award. The Best Policy Paper was awarded to Engr. Felizardo A. Gacad, Jr. of MGB Cordillera Administrative Region for his paper entitled The Acupan Contract Mining Project (ACMP): Looking Back. The Best Poster Presentation hailed from Region III entitled Management of Acid Forming Waste Rocks and Tailing Storage Facilities presented by Engr. Arthur P. Eulogio.