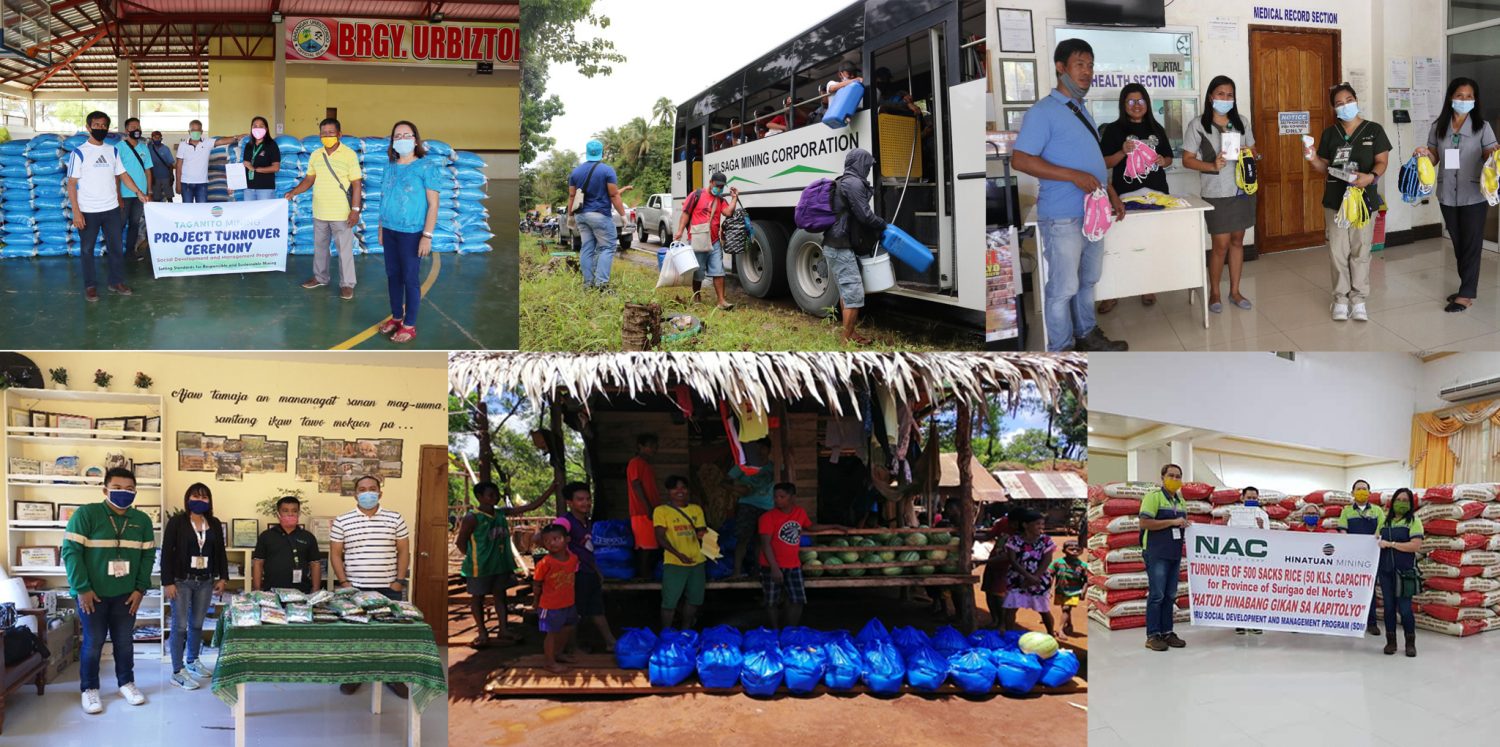 The Mines and Geosciences Bureau (MGB) Regional Office (RO) No. XIII and the Caraga minerals industry are keeping the Bayanihan spirit alive as they continue to collaborate on the implementation of Republic Act No. 11469, otherwise known as the "Bayanihan to Heal as One Act", which was signed into law by President Rodrigo Roa Duterte on March 24, 2020.
In line with the Bayanihan to Heal as One Act, MGB Director Atty. Wilfredo G. Moncano issued a Memorandum authorizing the mining companies to realign unutilized funds of the Social Development and Management Program to support affected impact and non-impact communities due to COVID-19 and in support of RA No. 11469. Fourteen (14) Caraga mining companies have realigned a total amount of PhP 83,382,331.33 as of April 22 for the said purpose, of which a total amount of PhP 47,127,396.58 has been expended as follows:
| | |
| --- | --- |
| Implementation Period | Amount Expended |
| April 1-8, 2020 | PhP 16,261,360.10 |
| April 9-15, 2020 | PhP 14,820,960.98 |
| April 16-22, 2020 | PhP 15,895,075.50 |
Scores of mining and non-mining communities including front liners have benefited from the relief efforts and other means of support of the mining companies throughout the five Caraga provinces. The necessary assistance came in the forms of PPE (face masks and shields, disposable gowns and gloves and shoe covers), hygiene kits (rubbing alcohol and hand sanitizer), medical supplies (thermal scanners, medicines, vitamins and medical apparatus), food supplies and packs, assorted vegetable seeds, survival garden kits, service truck and ambulance. Meanwhile, a good number of mining companies have carried out the disinfection of their impact communities and utilized their shuttle buses to provide residents on essential errands with free rides. On the same note, assistance was extended to farmers in various barangays of Claver, Surigao del Norte for their rice harvest season through the use of SDMP farm equipment.
The fourteen (14) Caraga mining companies that carried out the said implementation are:
Adnama Mining Resources, Inc.
Agata Mining Ventures, Inc.
Cagdianao Mining Corporation
Carrascal Nickel Corporation
CTP Construction and Mining Corporation
Hinatuan Mining Corporation
Marcventures Mining and Development Corporation
Mindanao Mineral Processing and Refining Corporation
Philsaga Mining Corporation
Platinum Group Metals Corporation
Sinosteel Philippines H.Y. Mining Corporation
SR Metals Inc.
Taganito HPAL Nickel Corporation
Taganito Mining Corporation
For their part, the MGB RO No. XIII employees gave a cash donation of PhP 166,500.00 to the Surigao del Norte Medical Society in response to the donation call made by the latter for the purchase of much-needed medical supplies and materials for Caraga Regional Hospital and Surigao del Norte Provincial Hospital. The Surigao del Norte Medical Society is a component society of the Philippine Medical Association.
MGB RO No. XIII also initiated various measures to promote quarantine, social distancing, sanitation and provision of personal protective equipment (PPE) to ensure that the health and welfare of its employees and that of Caraga mining projects as well as their stakeholders are safeguarded in accordance with RA No. 11469, Presidential Proclamation Nos. 922 (Declaring a State of Public Health Emergency throughout the Philippines) and 929 (Declaring a State of Calamity throughout the Philippines due to Corona Virus Disease 2019), and Orders/Resolutions issued by the Local Government Units and the Regional Inter-Agency Task Force for the Management of Emerging Infectious Diseases.
All these efforts are a manifestation of the Bayanihan culture of the Filipinos in which members of the community work together to accomplish a difficult task and help each other in times of need without expecting anything in return. The Bayanihan spirit is indeed at work in Caraga Region these days as MGB RO No. XIII and the minerals industry support the endeavor to fight the COVID-19 pandemic.