The Mines and Geosciences Bureau Regional Office No. XIII took part in milestone ceremonies at the Gigaquit National School of Home Industries on June 26, 2019 in Gigaquit, Surigao del Norte.
The Turnover of School Projects and Launching of Alternative Learning System-Education and Skills Training (ALS-EST) Training Facility and Bread and Pastry Production National Certificate II (BPP NC II) Assessment Center highlighted the event. Mr. Jose Gil L. Escabal, GNSHI Principal, was joined by Dr. Fidela M. Rosas, OIC-Assistant Regional Director of the Department of Education Caraga Regional Office; Ms. Julieta P. Erazo, ALS-EST Regional Focal Person; and Mr. Eduardo A. Neuda, Gigaquit Municipal Councilor in the ceremonies.
On the same note, the turnover of various unserviceable instructional and office equipment as well as two vehicles donated by the MGB Regional Office No. XIII ensued. Engr. Carlos A. Cogolio, Jr., OIC-Chief of Mine Management Division, represented MGB OIC-Regional Director Glenn Marcelo C. Noble in the ceremony. In his message, Engr. Cogolio expressed that the MGB Regional Office No. XIII shall continue to promote education and support optimal learning and the holistic enrichment of human life.
During the event, Dr. Rosas remarked that GNSHI is making a name for Gigaquit because it is the only high school piloting the ALS-EST in Caraga Region. She lauded the GNSHI Principal, faculty, staff and learners for having complied with the requirements prescribed by the DepEd. She envisioned that GNSHI will make a big leap in as far as academic, technical and total development of learners and the possible acknowledgement of teachers as model teachers in the promotion of program offerings. In the same way, she imparted that DepEd Caraga Regional Director Francis Cesar Bringas conveyed his warmest congratulations to GNSHI for successfully implementing ALS-EST which is the only one in Caraga Region. She shared that Dir. Bringas is a fervent advocate of Alternative Learning System in that he implemented the Balik Paaralan para sa Out-of-School Youth without funding when he was the Superintendent of DepEd Cordillera Administrative Region. In the words of Dr. Rosas, the DepEd Caraga Regional Director loves to serve the out-of-school youth and partnering with alternative system is an answer to his desire of reaching out to the seemingly unreachable learners.
As a final point, Dr. Rosas thanked Dir. Noble through Engr. Cogolio for supporting the needs of the ALS learners and for allowing GNSHI to make use of their unserviceable materials which the learners can repair during their learning periods. She also motivated everyone to share opportunities with the GNSHI learners especially in their practicum. "I know that the efforts made by the DENR-Mines and Geosciences Bureau Regional Office No. XIII have provided a spark of positivity for the sustainability of the ALS-EST program," expressed Dr. Rosas with gratitude.
In appreciation of the school projects, the agencies and local government unit were awarded with fine artworks especially painted by a budding artist and GNSHI student, Clarence M. Dingding, as tokens for their valuable contributions.
The unveiling and ribbon cutting ceremonies of ALS-EST Training Facility, BPP NC II Assessment Center and GNSHI Function Room followed.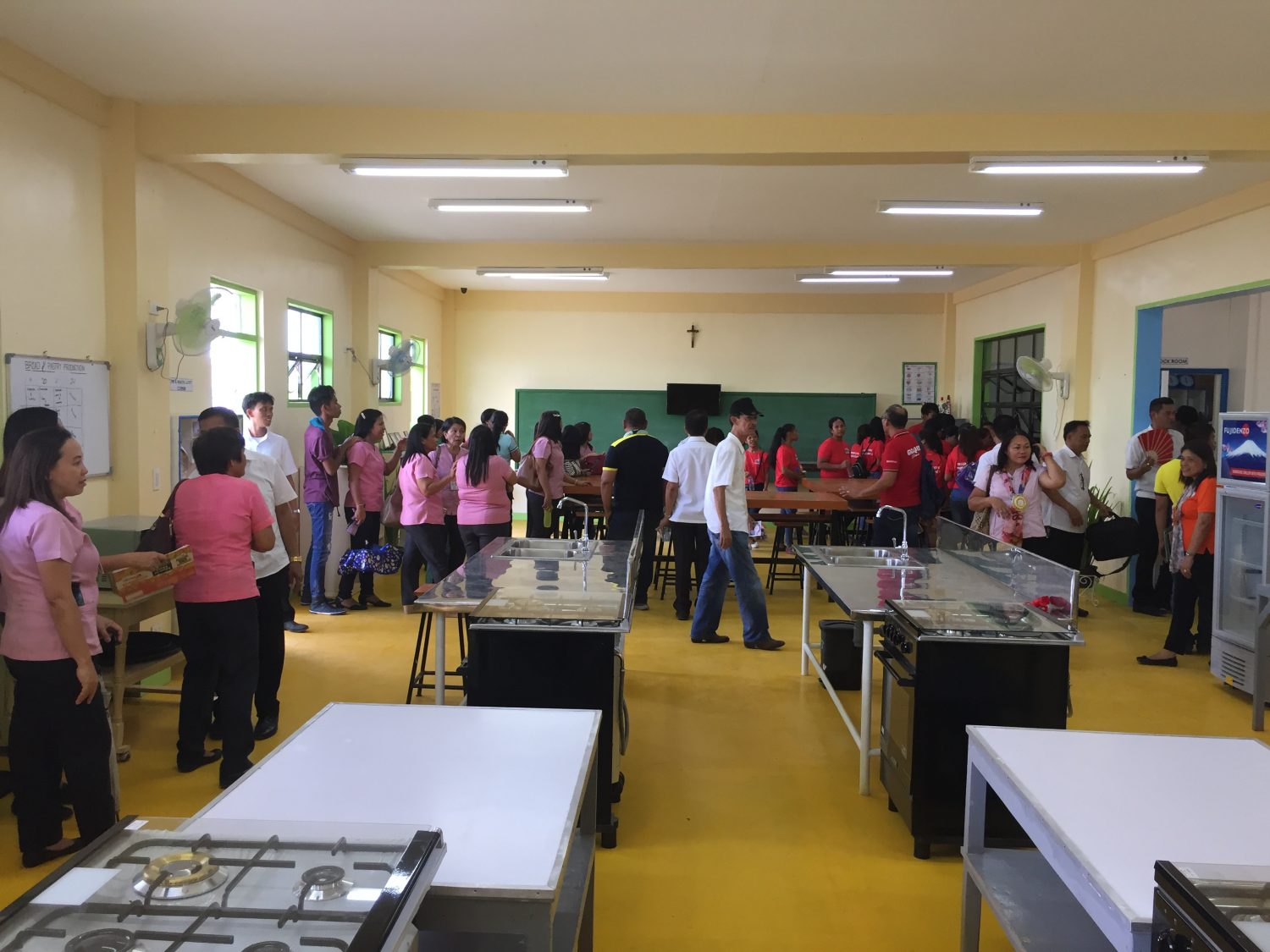 As one of the DepEd's non-formal education programs, ALS-EST is a variant of the Alternative Learning System which is the DepEd's primary vehicle for non-formal education. It systematically integrates a skills training component into the standard academic ALS Curriculum. ALS-EST offers out-of-school youth and adults the prospects of self-improvement and a productive life.