In keeping with the programs under its 2019 Communication Plan for Minerals Development, the Mines and Geosciences Bureau Regional Office No. XIII continued to raise awareness on its regulatory functions and the socioeconomic contributions of the minerals industry.
The Awareness on Mineral Resources and Geosciences and IEC Campaign on Gender and Development were conducted on May 8 to 10, 2019 at Barangays Mahayahay, Don Ruben and San Juan in the Municipality of San Jose, Province of Dinagat Islands.
The Officials and Staff of the aforementioned barangays participated in the activity. Identified representatives from the academe, religious sector and civil society organizations were also invited to take part in it.
The conduct of Awareness and Advocacy on Mineral Resources and Geosciences Development (MRGD) is one of the major programs of the MGB RO No. XIII. It is formulated to intensify Information, Education and Communication (IEC) campaign in Caraga Region. It is also aimed at strengthening ties and partnerships with various stakeholders particularly the barangay local government units and civil society organizations.
The activity aimed to provide substantial information on the regulatory functions of the Mines and Geosciences Bureau. It also aimed to communicate the social and economic contributions of the local minerals industry to the region. On the same note, the identified geohazards in the Municipality of San Jose were presented in order to strengthen the disaster risk reduction and management capabilities of the barangay local government units. Furthermore, the MGB RO No. XIII Gender and Development Focal Point System presented its gender equality and women's empowerment goals to recognize the important roles of women in various aspects of development.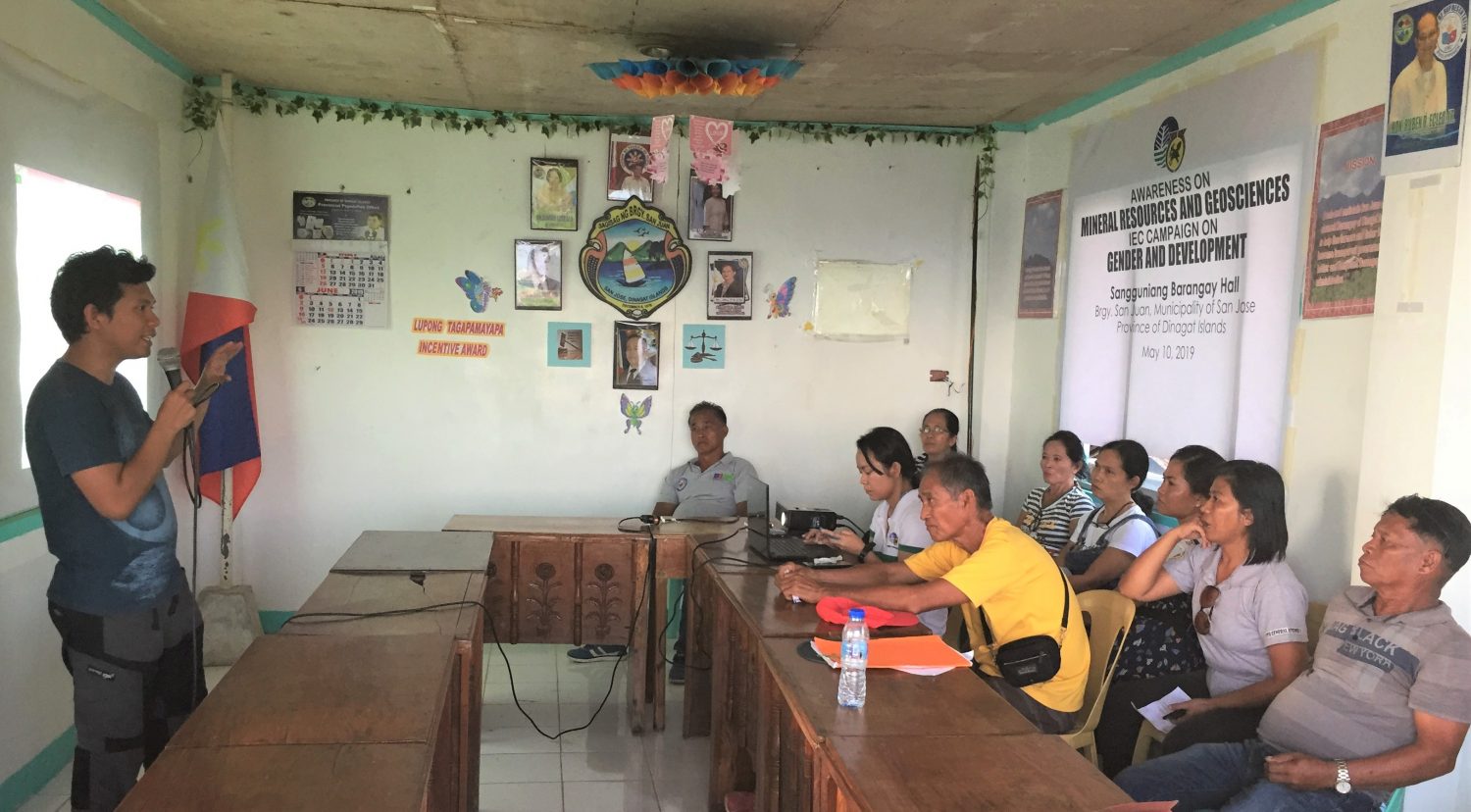 The participants' awareness of the following topics were heightened with presentations and discussions – Mining Policies and Tenement Updates; Environmental Protection and Enhancement Program; Employment and Taxes derived from Mining; Social Development and Management Program; Geohazards; Geology and Mineralization and Gender and Development. At the end of the presentations, an open forum ensued wherein the participants raised issues and concerns in relation to the topics discussed.
Barangay Captains Bienvenido Quiñanola of Mahayahay, Wilma Gella of Don Ruben and Generito Molo of San Juan expressed their appreciation and gratitude for the good opportunity to have established linkages with the Mines and Geosciences Bureau and other stakeholders.