"I call on you, practicing mining professionals, to take an active role in ensuring that the mining industry will make a positive difference in the lives of people and development of communities."
This was the appeal made by DENR Secretary Roy A. Cimatu in his message during the 25th Annual Mining Symposium and Exhibits on September 6-8, 2018 at the Waterfront Insular Hotel in Lanang, Davao City.
With the theme "Mineral Industry: Gateway to Environmental Enhancement, Poverty Reduction and Community Development," the event served as a venue for Filipino mining engineers to discuss notable developments in the mining industry and present their significant contributions to the fields of environmental enhancement, poverty reduction and community service.  It was hosted by the Mindanao Association of Mining Engineers, a chapter of the Philippine Society of Mining Engineers (PSEM). A considerable number of mining companies took part in the event where best mining practices as well as various products and technologies were showcased.
Regional Director Roger A. De Dios and fourteen mining engineers from the Mines and Geosciences Bureau Regional Office No. XIII actively participated in the event.
The first day of the event kicked off with the opening of exhibits. Numerous booths of mining companies presented their achievements, equipment, products, and souvenirs. To strengthen the camaraderie and sportsmanship between fellow mining engineers, golf and basketball tournaments were simultaneously held on that day.
The symposium proper took place on the second day. It commenced with the reading of former Senator Ferdinand "Bongbong" R. Marcos, Jr.'s message by Panabo City Councilor Gregorio U. Dujali III who duly represented him. The symposium featured comprehensive presentations and in-depth discussions on the industry's policies, Mindanao development, socioeconomic development, mining technologies, best mining practices, research papers and other mining issues.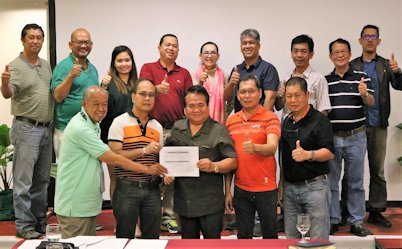 On the last day of the event, the PSEM and the MAEM hour was held to address the direction of issues affecting the profession, status of corporate paper and legal compliances, Continuing Professional Development (CPD) matters, and the resolutions to uphold the mining industry and its stakeholders. The event concluded with the oath-taking ceremony of new mining engineers and MAEM members as well as the renewal of oath of old MAEM members.