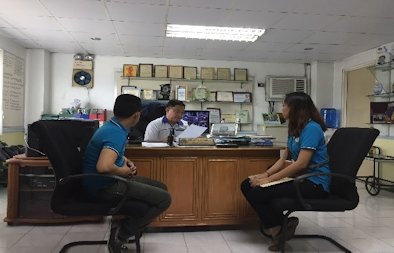 In line with the National Groundwater Resource Mapping and Assessment Program of the DENR-Mines and Geosciences Bureau, a technical team from the Geosciences Division of MGB Regional Office No. XIII carried out the Groundwater Resource Mapping and Assessment from June 25 to July 4, 2018 in Surigao City. The said project was undertaken in coordination with the personnel from Surigao City Environment and Natural Resources Office, Surigao City Engineering Office and Surigao Metropolitan Water District.
Surigao del Norte is one of the target provinces of MGB RXIII for the said project this CY 2018. Earlier this year, the mapping project was conducted in other municipalities of Surigao del Norte which include Alegria, Bacuag, Burgos, Claver, Dapa, Del Carmen, General Luna, Gigaquit, Mainit, Pilar, Placer, San Benito, San Francisco, San Isidro, Santa Monica, Sison, Socorro, Tagana-an and Tubod.
The MGB RXIII technical team comprised Ms. Elaine L. Galido, Supervising Geologist; Ms. Liza T. Pacete and Mr. Beda Louie O. Cagampang, Senior Geologists; Mr. Ralph Angelo B. Plaza, Ms. Janeth S. Aparri, Ms. Rubenar L. Cagubcob and Ms. Mye Karla C. Semblante, Geologists II; Mr. Dionesio A. Surigao, Geologic Aide and Mr. Jaime L. Curada, GIS Operator.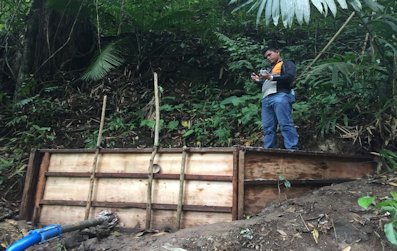 The said mapping and assessment project includes field mapping such as reconnaissance geological survey and inventory of water sources (wells, springs and impounded creeks and rivers if they are used as main water sources in some areas) and on-site water sample analysis using Aqua TROLL Multiparameter Instrument which is a water quality probe equipped with sensors for measuring dissolved oxygen, conductivity, temperature, pH, Oxidation-Reduction Potential (ORP) and depth (pressure). Secondary data on its water sources were also requested from Surigao Metropolitan Water District, a major water service provider in Surigao City.
This project aims to determine the groundwater availability in relation to the local geological setting, identify potential areas for future groundwater development and/or extraction and identify factors that may affect the water quality of the existing water supply in the target area.
The deliverables of this project include Groundwater Resource Assessment Report of the target province; Hydrogeological Map or Groundwater Availability Map showing the location of the mapped water sources all over the province and database on well, spring and water quality/chemistry.