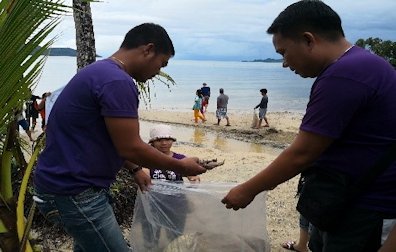 In keeping with the 2018 Earth Day Celebration, the Mines and Geosciences Bureau Regional Office No. Xlll-Dinagat Satellite Office took part in a coastal clean-up on April 20, 2018 at Santa Cruz in the Municipality of San Jose, Province of Dinagat Islands.
With the theme "End Plastic Pollution," the said activity was spearheaded by the Provincial Government of Dinagat Islands through the Provincial Environment and Natural Resources (PENRO-LGU) in partnership with local and national agencies as well as concerned civil society organizations.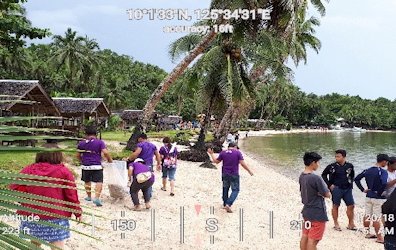 The MGB RXIII-Dinagat Satellite Office personnel, headed at that time by Engr. Brenice Ann M. Gendeve-Castillo as the Officer-in-Charge, participated in the activity which commenced at 6:00 A.M. during low tide in Santa Cruz as their assigned area. Collected waste gathered by various groups were endorsed to the designated point per area of assignment for proper waste disposal.
In the Philippines, Earth Day was launched on April 22, 1990 to mark a global commitment to building a safe, just and sustainable planet. Then President Corazon C. Aquino issued Proclamation No. 553 on April 16, 1990 to raise the level of environmental awareness in support of Earth Day. In April 2008, Presidential Proclamation No. 1481 was signed by then President Gloria Macapagal-Arroyo declaring April 22 of every year as the Philippines' Earth Day.  The said decree enjoins concerned agencies to conduct environmental activities in collaboration with private sectors for the month of April every year.
On the same note, Proclamation No. 1482 was issued on April 10, 2008 declaring the month of April as the Month of Planet Earth in the Philippines, also known as the Philippines' Earth Month, with the Department of Environment and Natural Resources as the primary agency that shall spearhead its observance.
Earth Day is an annual event celebrated globally every April with various activities to promote and intensify environmental protection. This year's Earth Day Celebration aims to promote reusable materials and put an end to plastic pollution. Plastic pollution poisons our water bodies and land masses, damages marine life and harms human health. In response, Earth Day 2018 is dedicated to provide substantial information and inspiration needed to radically change human behavior towards the use of plastic in order to catalyze a considerable reduction in plastic pollution.