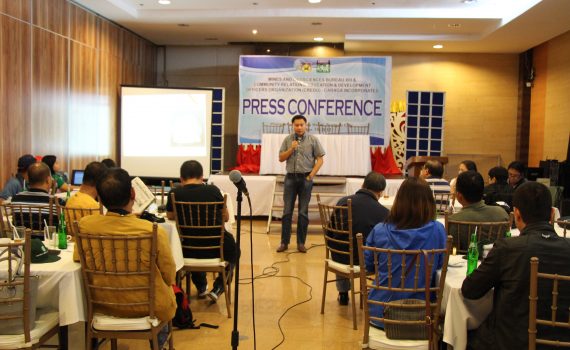 The Mines and Geosciences Bureau Regional Office No. XIII, in cooperation with the Community Relations, Education & Development Officers (CREDO) Caraga, Inc., held the 4th Quarterly Press Conference on December 15, 2017 at the Philippine Gateway Hotel in Surigao City.
The press conference aimed to intensify public awareness of the current state of the Caraga minerals industry.  It also aimed to foster the participation of and dialogue between the media and the mining stakeholders in achieving the common goals of responsible mining, ecological sustainability and social development. MGB RXIII and CREDO also hope to forge collaborative ties with the media.
Reporters from Surigao del Norte media outfits and various mining stakeholders participated in the press conference. The Philippine Information Agency of Caraga assisted MGB RXIII and CREDO in gathering the media practitioners for the activity. Resident Mine Managers, Community Relations Officers and a good number of personnel from Caraga mining companies attended the activity.
Regional Director Roger A. De Dios delivered the Welcome Remarks.  To keep the media abreast of current mining projects, Engr. Vingel A. Romero, Senior Project Coordinator of Silangan Mindanao Mining Company, Inc., imparted SMMCI Project Updates. On the other hand, Mr. Jojo Thairon Tacumba, Resident Manager of Greenstone Resources Corporation, gave a comprehensive presentation on GRC's Open-Pit Mining Method. Lastly, A Study of Acid Mine-Metal Leaching (AMD-ML) and Mining-Influenced Waters (MIW) in Philippine Copper Porphyry Projects was presented by Mr. Gabriel P. Pamintuan, Jr., PhD of the University of the Philippines Diliman.
After the presentations, reporters from Surigao del Norte media outfits asked questions and raised various mining issues during the Question and Answer Session. Towards the end of the press conference, a brief interaction between the media practitioners and the mining stakeholders took place.