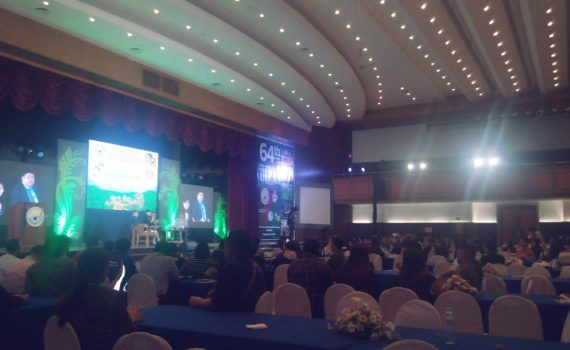 The Mines and Geosciences Bureau Regional Office No. XIII and Caraga mining firms participated in the 5th National Community Relations Officers' Conference on November 22, 2017 at the CAP-John Hay Trade and Cultural Center in Baguio City. The conference was organized by the Philippine Mine Safety and Environment Association (PMSEA) in keeping with the 64th Annual National Mine Safety and Environment Conference (ANMSEC) on November 21-24, 2017.
The Community Relations Officers from different mining companies all over the Philippines attended the said conference with the theme, Consolidating Community Relations Work, Building Sustainable Mining Communities.
The conference started with the welcome remarks of Engr. Louie Sarmiento, PMSEA President.  Atty. Wilfredo G. Moncano, MGB Director, delivered the Keynote Address. Hon. Martin Slabber, the Ambassador of South Africa to the Philippines, also imparted some relevant inputs. The conference featured a plenary discussion on the topic SDMP Links to the UN SDGS: A Cost-Benefit Analysis and Proposed SDMP Awards Criteria with the Consultant of the Philippine Poverty-Environment Initiative and Technical Consultant of the Department of Environment and Natural Resources, Dr. Antonia Corinthia N. Naz. A discussion about Models of Sustainability in Community Development was steered by Dr. Rolando V. Cuaño of BMP Environment and Community Care, Inc.  The MSESDD Chief of MGB Central Office, Engr. Rodolfo L. Velasco, Jr., presented the Standards in Implementing the SDMP – Policy Review.
The benefits of mining have been elaborated by Mr. Al Harvey Galorio, PMSEA scholar, who shared how his scholarship has helped him and his family realize his goals and aspirations in life. Similarly, positive experiences of the mining communities were also shared and discussed.  Mike Marcelo, Dormili Ninge and Herminio Catiao shared the success of the projects managed by Berong Aramaywan Tagbanua Association, Inc. (BATA).  Fr. Rey Biliran also discussed the management of "Bus Program" wherein buses were multiplied as a result of cooperation among stakeholders. Mining companies have spent millions for their various Social Development and Management Programs (SDMP) and Corporate Social Responsibility (CSR) geared towards the socio-economic improvement of local communities. Agata Mining Ventures, Inc. (AMVI), through its Community Relations, Education and Development Staff, Mr. Kahlil Pope Tabernero, and an IP community member, Mr. Raymond Moron, reminisced on their challenging yet triumphant journey with the presentation entitled Touch of Agata to Mamanwa IP Community: Then and Now. A group called Diwata also shared the dynamic implementation of SDMP specifically on responding to its challenges during exploration, operation and closure phase.
An open forum was conducted twice after the series of presentations. The conference served as an excellent venue for sharing issues and challenges confronting the Community Relations Officers, community development workers and concerned stakeholders in the performance of their work and in the implementation of SDMP/CSR.