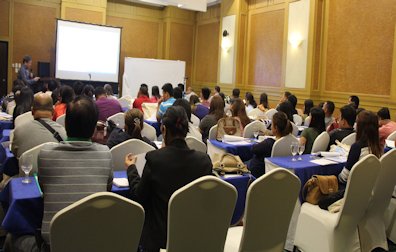 The Mines and Geosciences Bureau Regional Office No. XIII, in cooperation with the Community Relations, Education and Development Officers Organization (CREDO) Caraga, Inc., conducted a three-day Training on SDMP and Participatory Project Planning on August 18 to 20, 2017 at the Parklane International Hotel in Cebu City.
Community Relations Officers and official representatives of mining companies and processing plants, together with the Social Development Section personnel of MGB RXIII, actively took part in the activity.  The training was facilitated by Dr. Rolando Cuaño and Ms. Marita Cuaño of BMP Environment and Community Care, Inc. in response to the program of Regional Director Roger A. De Dios to capacitate the Social Development and Management Program (SDMP) workforce of mining companies and processing plants as well as the regulatory agency which is the Mines and Geosciences Bureau.
Aimed at making the implementation of SDMP more systematic and sustainable and giving more emphasis to the livelihood component of the program, the training successfully attained the following objectives:
internalize the true objectives, scope, framework and methods of the SDMP;
focus on the target beneficiaries of the SDMP and thoroughly understand their circumstances and the appropriate development strategies;
appreciate the importance and key success factors of partnerships in the SDMP;
understand the elements, criteria, and indicators of sustainability and their incorporation into the SDMP;
internalize the elements, steps, and checklists for participatory planning and project planning; and
develop project plans consistent with the elements, steps and checklists.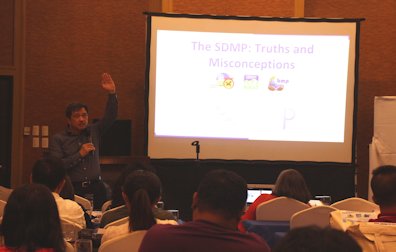 The methodology of the training comprised substantial lectures, in-depth discussions, intensive workshops and comprehensive diagnostic tests.  To strengthen the participants' knowledge of the foundations and dynamics of the Social Development and Management Program, Dr. Rolando Cuaño and Ms. Marita Cuaño discussed these topics at length:
The SDMP: Truths and Misconceptions
The Target Beneficiaries and their Profiling
Development Partners and Forging Synergies and Controls
Ensuring Sustainability in the SDMP
Basic Elements and Steps in Participatory Planning
Project Planning and Management
Developing Project Plans
During the activity, Dir. De Dios discussed the SDMP Framework.  He underscored the importance of strict monitoring of mining operations, imposition of penalties on violations and immediate remediation of damages.  On the same note, he reiterated the drive of DENR Secretary Roy A. Cimatu to put the mining industry in a better light after having suffered from a precarious state through negative publicity.  "The Mines and Geosciences Bureau should produce more output for the good and advancement of the mining industry," Dir. De Dios stated.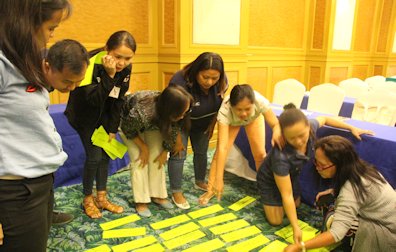 The participants keenly took part in the workshops on the Identification of Development Partners and Assessing Their Strengths and Weaknesses; Sustainability – Elements, Criteria and Indicators; Why SDMP Project Fails; and the Development of Project Plans.
Towards the end of the workshops, group presentations on the outputs were made. The participants also shared their insights and learning experiences which the MGB RXIII Staff and training facilitators appreciated and took note of.