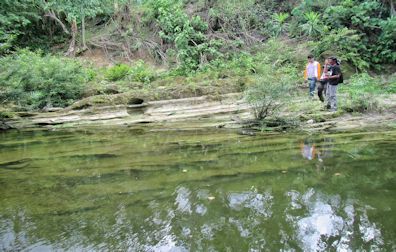 The Mines and Geosciences Bureau Regional Office No. XIII conducted the Geologic Quadrangle Mapping on May 2 to June 11, 2017 in Bicol Region.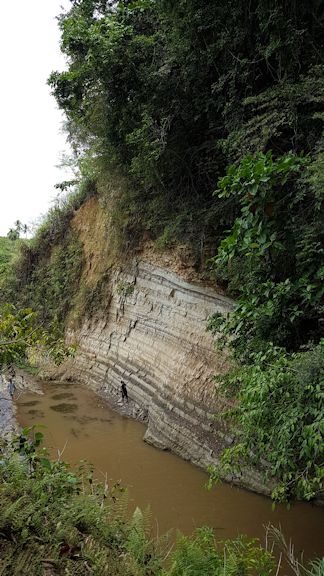 A team of three geologists and one GIS Operator from MGB RXIII conducted the Geologic Quadrangle Mapping in two quadrangles, namely Polangui and Ligao. The Polangui Quadrangle comprises five municipalities and one city ‒ Balatan and Bato, Camarines Sur and Libon, Polangui, Oas, and Ligao City, Albay. On the other hand, the Ligao Quadrangle has 7 municipalities and 3 cities ‒ Polangui, Oas, Guinobatan, Camalig, Daraga, Santo Domingo, Malilipot, Ligao City, Legazpi City and Tabaco City.
The updating of Polangui Quadrangle which has an unpublished geologic map was done on the first phase of the fieldwork (May 2-May 19). The team subsequently proceeded to work on Ligao Quadrangle on the second phase of the fieldwork (May 22-June 11). Methodologies used were river/creek traversing, examining outcrops, exposures, contacts, rock sampling, and using the unpublished geologic map and other literatures to correlate the lithologies observed during the fieldwork.
The accomplishment of the team during the fieldwork are as follows: mapped/identified different lithologies within the Ligao and Polangui Quadrangles; gathered and documented data using a digital camera, handheld GPS, Brunton compass, geologic mapping data sheets and other basic mapping equipment; and obtained 37 rock samples from different locations with proposed 23 samples subject to petrography and paleontology analysis in MGB Central Office.
Geologic maps are important because they provides geologic information that can help reduce death and damage caused by geologic hazards such as earthquakes and landslides. Similarly, they are used to better find and protect or safely extract geologic resources. The said maps support our ability to locate and develop mineral and water resources; assess and protect groundwater quality; safely site solid and hazardous waste disposal facilities; and construct, restore, maintain, and protect sensitive ecosystems. Geologic maps enhance our ability to site and build the nation's infrastructure of roads and highways, railroads, pipelines, utilities, dams and locks, buildings, and foundations as well as make more informed land‐use and planning decisions to meet societal needs.