Chemists from the Mines and Geosciences Bureau Regional Office No. XIII took part in the 32nd Philippine Chemistry Congress on May 31 to June 2, 2017 at the Asturias Hotel in Puerto Princesa City, Palawan.
The theme of this year's congress is "Chemistry. Changes. Choices." Department of Science and Technology Secretary Fortunato T. Dela Peña delivered the Keynote Speech. Approximately a thousand participants attended the event which aims to provide a stimulating setting and a chance to engage chemistry scholars and practitioners in the latest developments in the field, thus enabling them to pursue wise and good choices that will effect positive changes in society. During the event, the participants were able to realize their capabilities to spur changes and make worthy choices with full utilization of the potentials of chemistry in bringing about social transformation and economic progress.
The poster presentations, plenary and parallel sessions gave the participants the opportunity to choose topics that are relevant and applicable to their specific field of expertise. Topics of interests among chemists from the DENR-Mines and Geosciences Bureau were researches on Environmental Chemistry, Agricultural Chemistry, Food Chemistry and Instrumentation.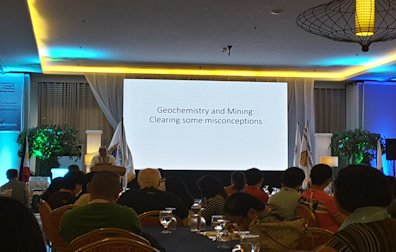 The plenary lecture delivered by Dr. Carlo A. Arcilla, Head of the Earth Materials Science Laboratory of the National Institute of Geological Sciences of University of the Philippines Diliman, is considered as one of the most informative and fascinating lectures during the event. Dr. Arcilla talked about "
Geochemistry and Mining: Correcting Some Misconceptions
." He emphasized that only 0.4% of the total land area of the country is utilized as active mining areas for mineral commodities like gold, silver, copper, nickel, iron, etc. He stated that mining, like other developmental activities, causes total changes in the landscape and may cause temporary environmental degradation. But when fully rehabilitated after the exhaustion of ore deposits, the mining area can be brought back to its original state or may even offer a more productive land use with the production of other more economically viable products. He reminded everyone that mining is inevitable and responsible mining is attainable with the concerted efforts of all stakeholders. As a final point, Dr. Arcilla challenged chemists to help the economy by coming up with a technology to process locally mined ores and come up with processed export products with higher monetary exchange.