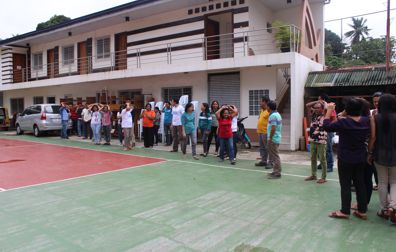 The Mines and Geosciences Bureau Regional Office No. XIII joined the conduct of the CY 2017 1st Quarter National Simultaneous Earthquake Drill (NSED) on March 31, 2017 at 2:00 P.M. The primary purpose of the earthquake drill is to test the response capacity and capability of MGB RXIII employees to earthquake incidents.
Mr. Romeo M. Dalodado, MGB RXIII Geosciences Division Chief, gave a brief presentation on "How to Conduct an Earthquake Drill" that serves as a gui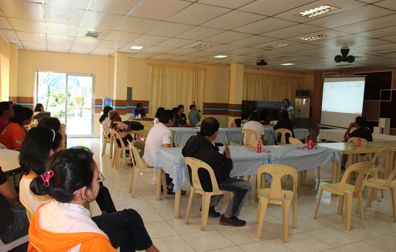 de for employees to what should be done before, during and after an earthquake.  He also discussed the different stages in conducting the earthquake drill which include Planning/Organizing an Earthquake Drill, Developing the Earthquake Evacuation Plan, Orientation Prior to the Conduct of an Earthquake Drill and Actual Conduct of an Earthquake Drill.  Since the earthquake drill is performed quarterly every year, Mr. Dalodado reminded the employees of the established evacuation route and muster point/assembly area of the MGB RXIII Office.  A week before the earthquake drill, Mr. Dalodado gave a lecture on Earthquake and Seismic Hazards to MGB RXIII employees on March 20, 2017 in the aftermath of the magnitude 6.7 earthquake that hit Surigao City and some municipalities in the Province of Surigao del Norte.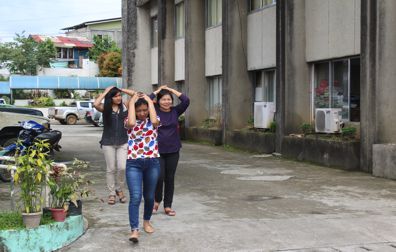 The drill started with the one-minute buzzer alarm that indicates earthquake or ground shaking.  Everyone moved away from windows, glass or light fixture and performed the duck, cover and hold under desks, tables or chairs while the siren/bell sounded. After the "shaking" has stopped, everyone evacuated the office building and proceeded to go to identified evacuation areas using pre-determined routes.  Every division has an assigned observer who is tasked to take note of how the participants performed. When everyone has already settled in the muster point, headcount was then undertaken.
MGB RXIII employees diligently performed the earthquake drill to ensure that utmost consciousness, preparedness and response to disasters are achieved.