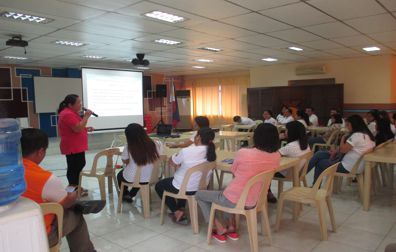 The Mines and Geosciences Bureau Employees Association (MGBEA) Caraga Chapter conducted a stress debriefing session on March 20, 2017 at the MGB RXIII Training Center in Surigao City.
The said activity was aimed at helping all MGB RXIII employees who were affected by the magnitude-6.7 earthquake that hit Surigao City on February 10, 2017 and the series of aftershocks that followed.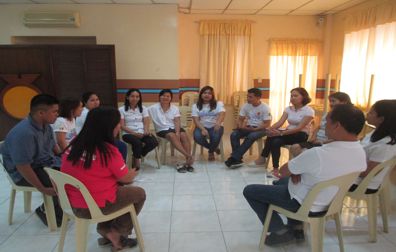 Ms. Maria Rosana M. Enano, a Nurse from the Provincial Health Office – Surigao del Norte (PHO-SDN), gave a lecture about stress debriefing and its importance to each individual. After the lecture, the employees were grouped into four for sharing and reflection.The main objective of the activity was to give each participant a chance to share his/her experience during the earthquake. It also served as an avenue for the employees to help each other cope with their traumatic experiences. Together with Ms. Enano were Ms. Virginia C. Bacolod, Nurse; Ms. Jonilia Necitas B. Perral, Nutritionist-Dietician II; and Ms. Concordia P. Ross, SWO I/ PSSO-SDN.
After the stress debriefing session, Mr. Romeo M. Dalodado, Chief of the MGB RXIII Geosciences Division, gave a lecture on Earthquakes and Seismic Hazards to heighten the employees' awareness. Mr. Dalodado started his lecture with a video presentation from the Philippine Institute of Volcanology and Seismology (PHIVOLCS) regarding earthquakes along with its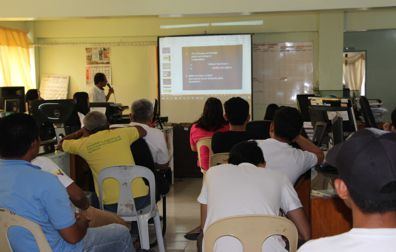 mechanisms and accompanying geologic hazards. Afterwards, Mr. Dalodado elaborated on some technical terms from the video and explained further the mechanism that causes an earthquake and its series of aftershocks.  He also expounded on the reason behind the Philippines' vulnerability to the said hazard based on its tectonic setting. Similarly, he gave a background of the magnitude-6.7 Surigao earthquake and showed a tabulated graph based on the recorded seismic data gathered from PHIVOLCS from February 2017 to the present. An open forum was conducted after the lecture wherein Mr. Dalodado addressed the questions and matters raised by the employees.
At the end of the activity, Ms. Cecilia L. Consuegra, MGBEA RXIII President, recognized and appreciated the invaluable contributions of the resource speakers and the stress debriefing facilitators from the Provincial Health Office of Surigao del Norte.