In deep appreciation of recently obtained distinctions, the Mines and Geosciences Bureau Employees Association (MGBEA) Caraga Chapter held its thanksgiving dubbed Handog Pasasalamat on September 7, 2015 at the MGB Training Center in Surigao City.
The heart of the gathering was the Thanksgiving Mass officiated by Monsignor Terry Iral. In his homily, Monsignor Iral exhorted the MGB ROXIII Management and Staff to actualize their roles as civil servants and stewards of the country's mineral resources. Headed by the MGBEA Officers, the MGB ROXIII personnel offered praise and thanksgiving to the Lord for all the guidance, protection and blessings that they have received.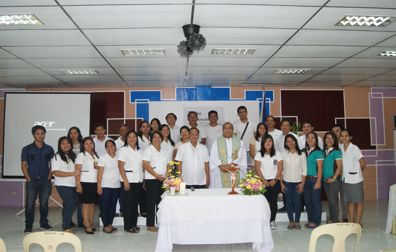 Apart from having been awarded as one of the most outstanding MGB Regional Offices, MGBEA Caraga Chapter has been awarded the most outstanding MGBEA Chapter in the country for CY 2014.
A short program was conducted after the Thanksgiving Mass. Ms. Cecilia L. Consuegra, MGBEA Caraga Chapter President, delivered a message of appreciation. "Let us all take pride in our accomplishments. May we continue to improve on the quality of work and service we render to our bureau, colleagues and clients without any condition, need for recognition and personal gain. As we put our hearts and minds into the pursuit of our goals and put God at the center of our lives, let us constantly aspire to enhance our outlook on life, strengthen our ties and evolve into better persons," stated Ms. Consuegra.
In their inspirational messages, Engr. Daniel S. Belderol, Officer-In-Charge of the Mine Management Division, and Mr. Romeo M. Dalodado, Chief of the Geosciences Division, commended the personnel for their concerted efforts and commitment to work. In the same way, Engr. Belderol and Mr. Dalodado encouraged everyone to persevere and continue to work well. After the program, the MGB ROXIII personnel were treated to a simple feast to complete the celebration.